The John Bradburne Memorial Door
What follows is the substance of a chapter fromA Guide to St. Mary's Outstation, Chiphaso Parish, Kasungu District, MalawiMS 2010
The West Door is carved with eight double-sided panels which are inspired by the life of John Bradburne. It serves to commemorate the thirtieth anniversary of John Bradburne's death amidst the troubles of the time on 5th September, 1979 in what is now Zimbabwe.
Six of the panels are decorated with scenes (there are two or three scenes on each side of a panel) which tell the story of John Bradburne's life. The remaining two panels relate scenes from the life of Christ to John Bradburne's life.
It is a happy coincidence that the newly-appointed catechist to St. Mary's Outstation, Mr. Frederick Tchiza, is himself a third-order Franciscan. Mr. Tchiza is the author of the Chichewa version of the prayer for John Bradburne's beatification which hangs alongside the door.
The West Door was made at Malawi Entrepreneurs Development Institute (MEDI), Mponela, Dowa district from mlombwa wood. The panels were carved at Kungoni Centre of Culture and Art, Mua Mission, by two local carvers, Messrs. Maxwell Chaka and Suman James, under the direction of Fr. Claude Boucher M.Afr. and Mr. Joseph Kadzombe Gama, who explained John Bradburne's life using the John Bradburne Memorial Society's publications and recordings. The choice of scenes, however, is that of the carvers, which makes the door an authentically African response to John Bradburne's life. It is significant that Mua Mission was itself for much of its history the site of a Leprosy Settlement.
The West Door was re-assembled and finished at MEDI.
Right: The Outer Face of the John Bradburne Memorial Door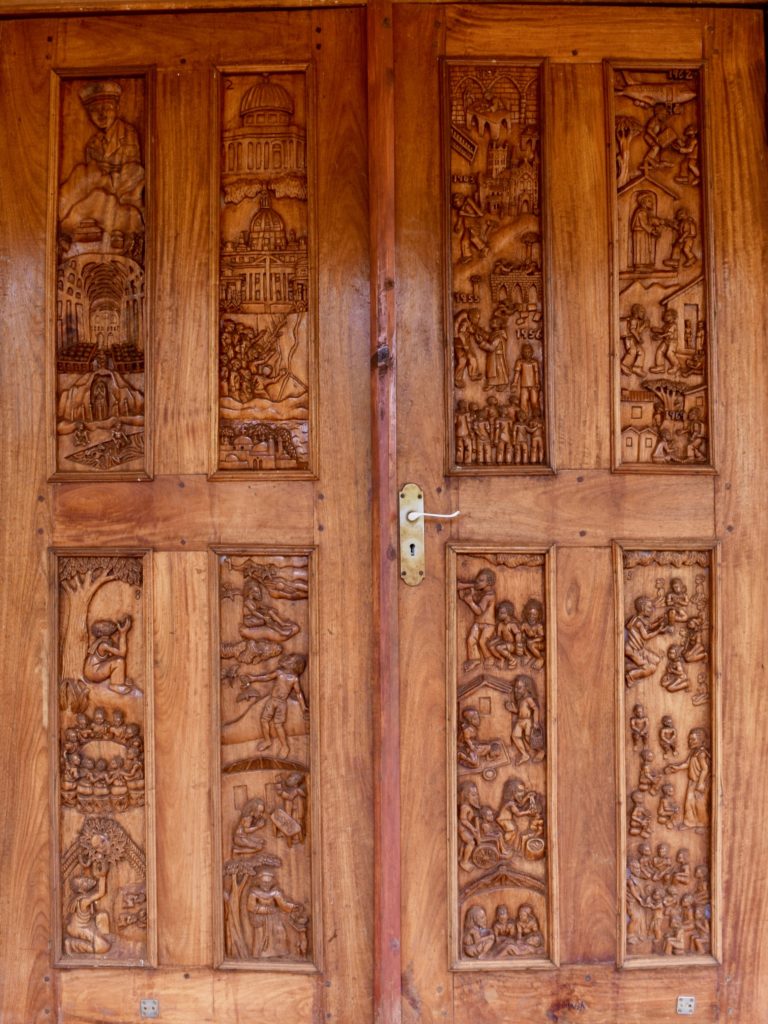 John Bradburne was a prolific poet: indeed, he seems to have found verse a more congenial medium of expression than prose. The following, very perfect sonnet, gives the title to Fr. John Dove's biography:
Strange vagabond that knows not what to seek!
The rest you lack lies not this far afield:
Much babel tumult makes your hearing weak,
And all replete with sights your eyes are sealed.
Far out you've strayed to find your inmost soul
But souls their eloquence in stillness find:
Be still then! let God's silence make you whole,
For He alone can calm your troubled mind.
Your heart's desire is nearest, though unseen,
Your haven of perfection close at hand;
And that drear quest was as a fevered dream;
God's love within you is your native land.
So search none other, never more depart,
For you are homeless, save God keeps your heart.
John's verse constitutes a direct bridge to English Romanticism, but he draws on older traditions too – the Metaphysical tradition, at his best, and the Elizabethan age – which is refreshing for the contemporary reader who must feel that the modernist poets and their successors have sated themselves to artistic, intellectual and spiritual exhaustion on their own self-conceit. There are other comparisons which suggest themselves: it would be interesting to know, for example, whether John knew, or whether he re-invented in his own person, the Goliardic verse of the Latin Middle Ages, in which he would have been so much at home. John is also an astute and humorous satirist; and many a child (in addition to his many older correspondents) must have derived pleasure from his simpler verses.
Some lines of John's verse have been excerpted to accompany the photographs which follow. Much of John's poetry is complex – and, although often an individual verse is succinct, the poem as a whole inclines to be expansive – so it does not lend itself readily to the sort of plucking which is required for the florilegium. However, some attempt has been made to select lines which represent the different genres and traditions in which John writes.
It is hoped that the interested reader will be inspired to look up the editions of John's poetry by Prof. David Crystal, from which most of these lines are drawn: Songs of the Vagabond (1996), J(ohn) B(radburne)'s Mutemwa (2000), JB's Book of Days (2004), JB's Birds, Bees and Beasts (2007) and JB on Love (2009), all published by the Holy Island Press for the John Bradburne Memoral Society and all available from the Society.
There has appeared more recently Prof. David Crystal's admirable and endlessly engaging searchable database of John Bradburne's poetry.
st-mary.fritillary.org02/07