A Catalogue Raisonné of the Books of Classical Interest in the Dr. H. Kamuzu Banda Memorial Library, Nguru-ya-Nawambe Palace, Mount Kasungu [1]
This image of H. E. the Life President of the Republic of Malawi the Ngwazi Dr. H. Kamuzu Banda hangs in the atrium of the pavilion. He is depicted as the Lion of Malawi.
The lion is that which stands on his desk; and the litchowa (fly-whisk) is the characteristic symbol of traditional authority figures such as the mfumu (chief) and the sing'anga (traditional doctor).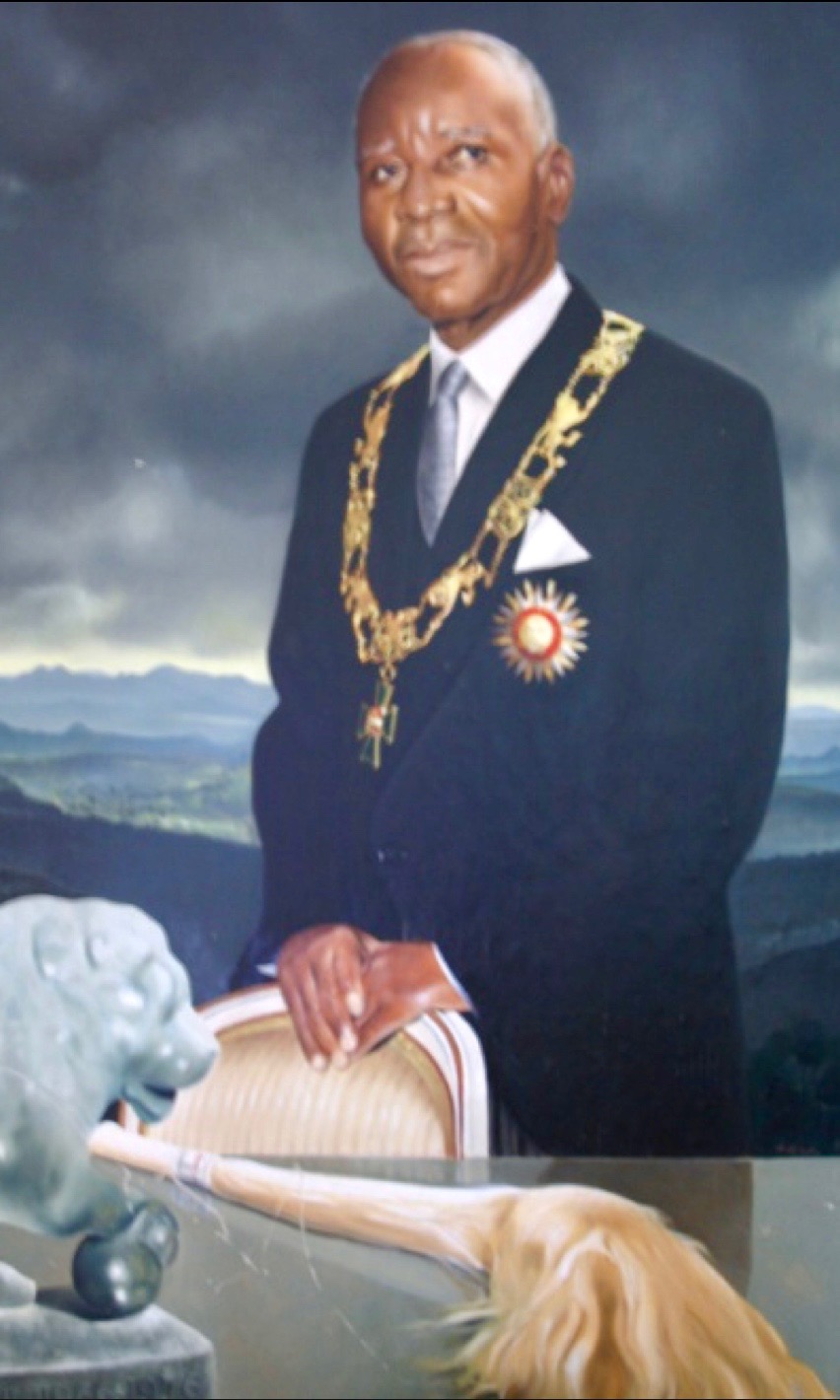 Dr. H. Kamuzu Banda's palace, which is set into the southern flanks of the eponymous mountain, guards the approaches to Kasungu from Lilongwe. It is a handsome building, Italianate in style, with fine views over the plain. It was constructed in the early 1980's. The name Nguru-ya-Nawambe refers to a victory which was secured by the Chewa people over the invading Angoni at Mount Kasungu in the nineteenth century. Kamuzu Banda used the palace as a retreat from affairs of state in which to receive guests.
Nguru-ya-Nawambe is seen to the left of the photograph on the flank of Mount Kasungu. The photograph is taken from the south.
There appears to be little consensus as to the meaning of the name, which might be Chingoni: 'Place of the Shield' is one translation.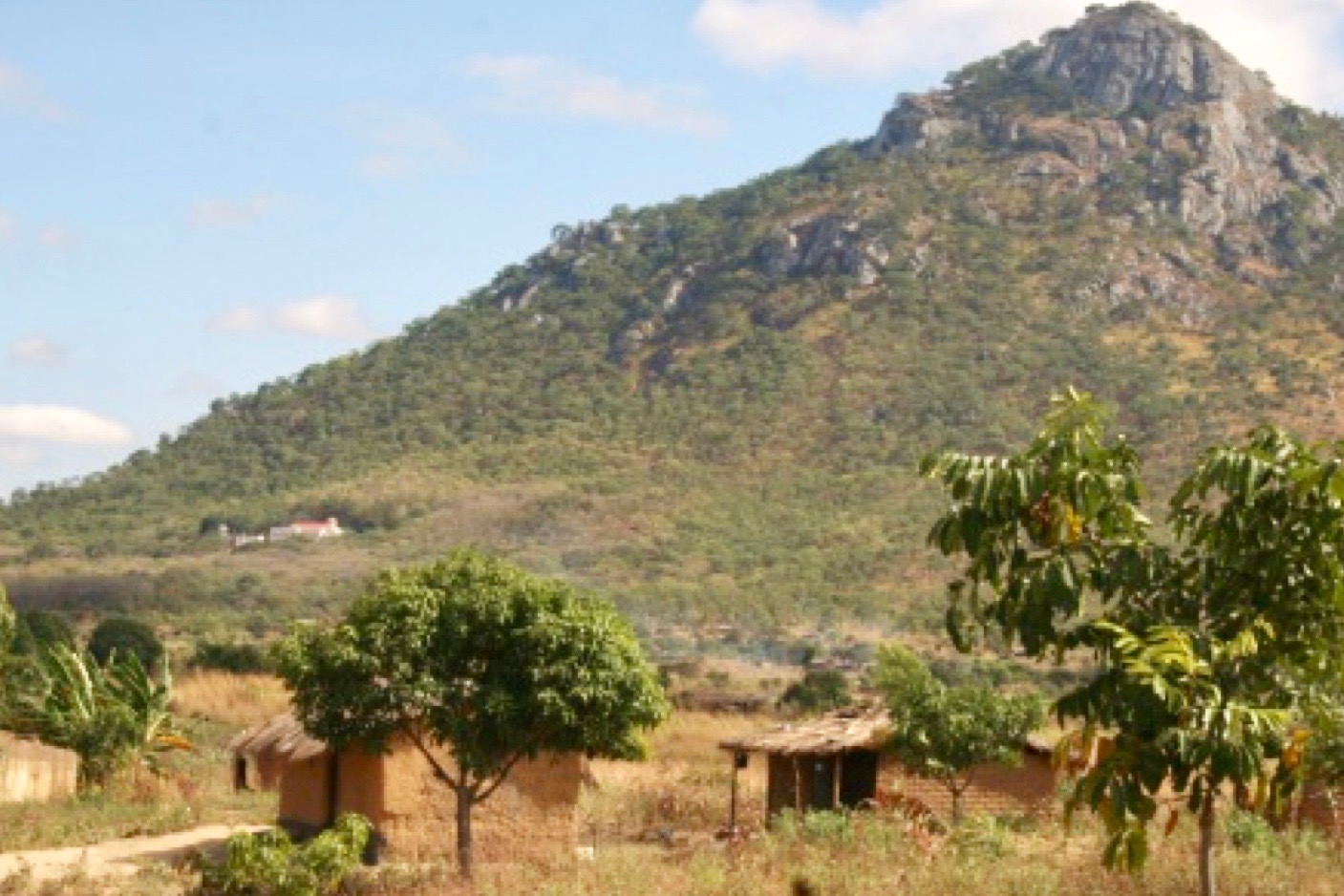 'Those of you who go to Kasungu to see me, you see me at my house which is known as Nguru-ya-Nawambe',
State Address on the occasion of the State Opening of Parliament, 24th October, 1984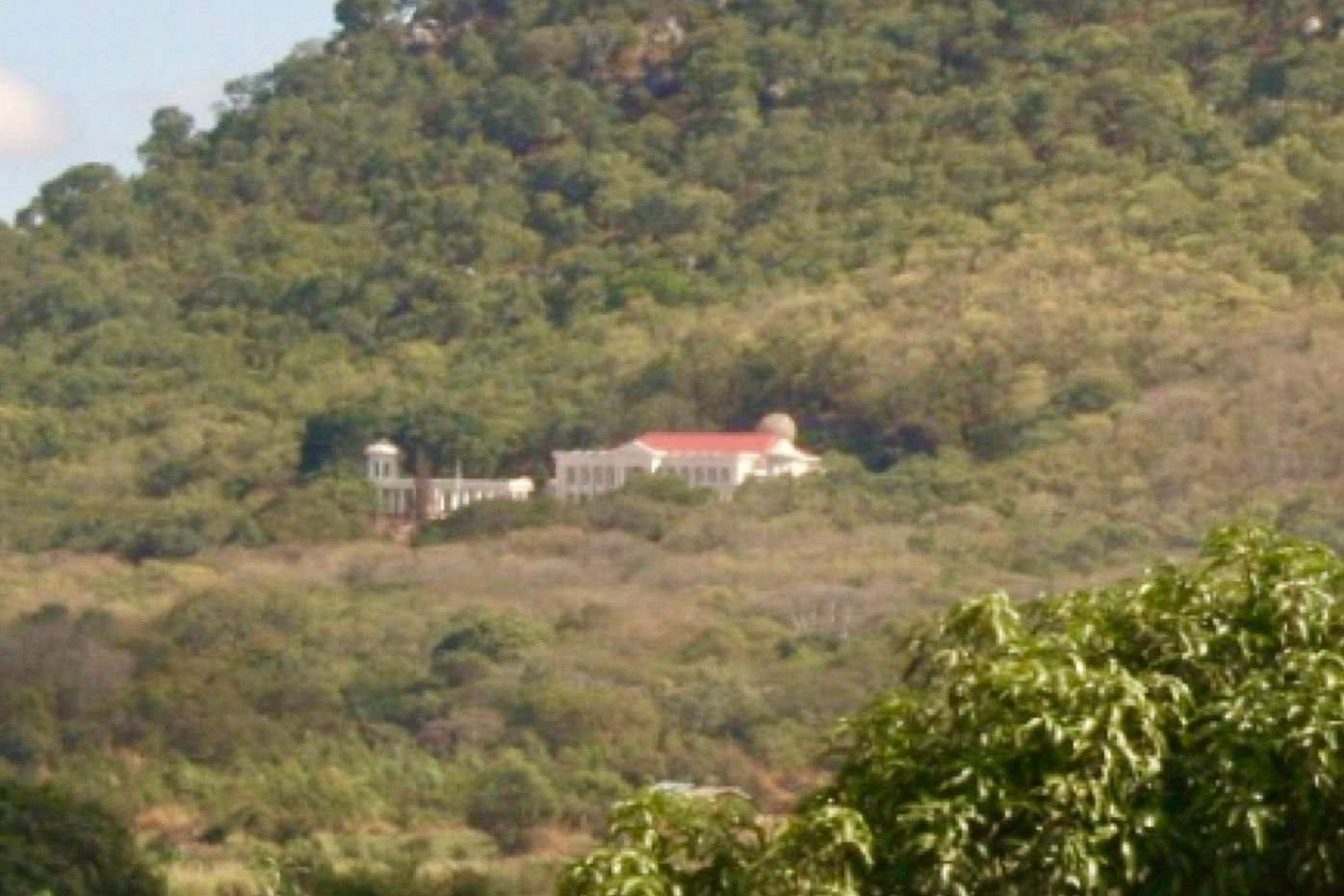 To the west of the main building lies a separate pavilion, which contains the Dr. H. Kamuzu Banda Memorial  Library. With kind assistance of Mrs. Mabel Banda, and by gracious permission of Mrs. Jane Dzanjalimodzi and Mr. Edwin Banda, the authors were able to make visits on three occasions in May, 2011.[2] It is planned, in due course, to open the pavilion as a research centre for those who are interested in Kamuzu Banda's contribution to Malawi.
The pavilion which contains the study, library and archive room.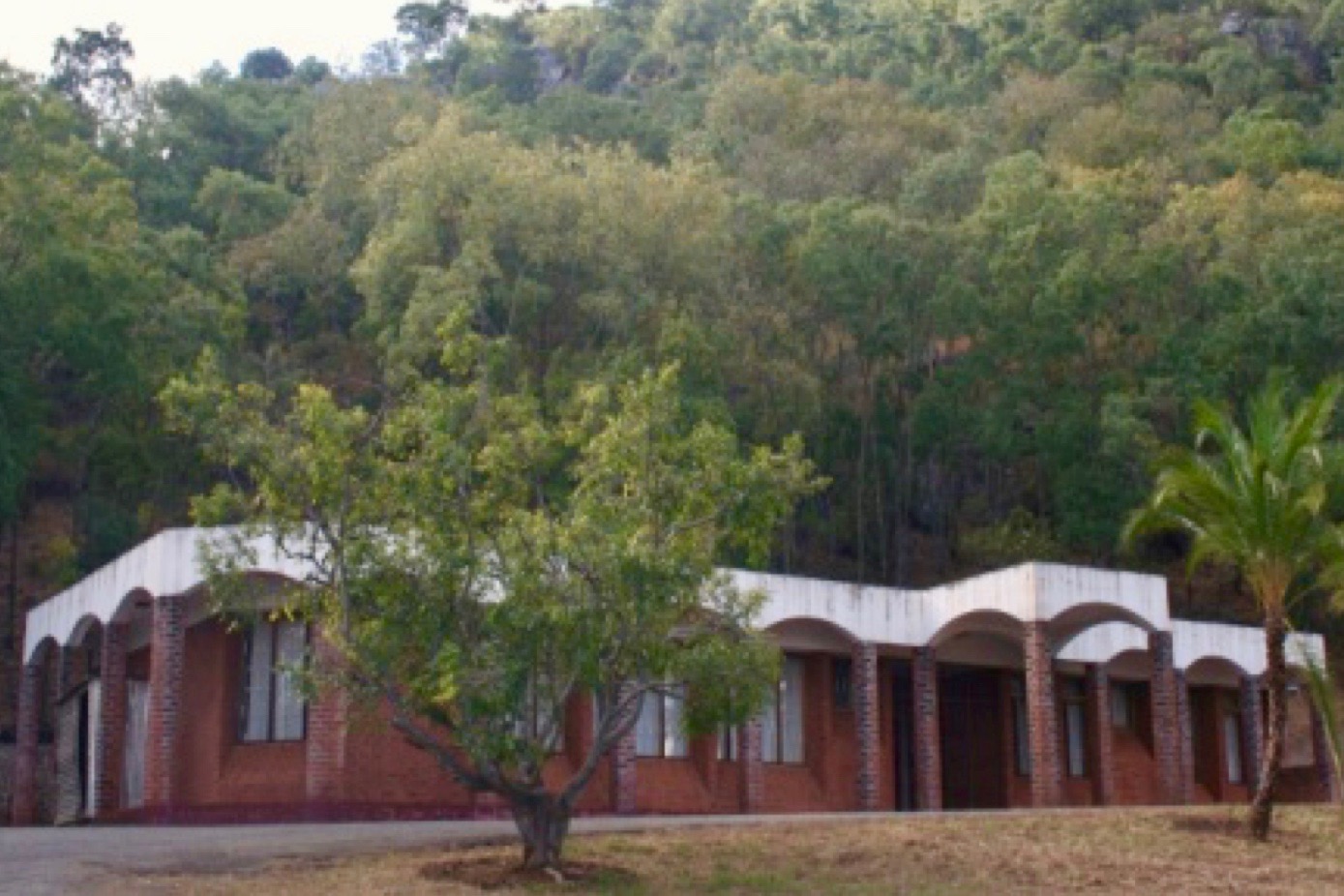 The pavilion is an unassuming building: it is set in miombo woodland which is inhabited by baboons. However, its outer appearance conceals a sumptuous interior. It has three principal divisions: to the left of the atrium lies Kamuzu Banda's study and off the study lies the library; and to the right of the atrium lies the archive room. Other rooms include an administrative office and a reading room for visitors. The pavilion is decorated exuberantly – but within the bounds of taste – with the accumulation of Kamuzu Banda's long and interesting life: portraits, diplomatic gifts and awards. Mr. Martin Chibwana, then librarian of Kamuzu Academy, created a permanent exhibition in the pavilion in 2005, with articles and photographs which reflect on Kamuzu Banda's career. He also undertook some preliminary work on cataloguing and re-ordering the books.
The study: Kamuzu Banda's desk stands in the foreground; and the door to the right leads into the library.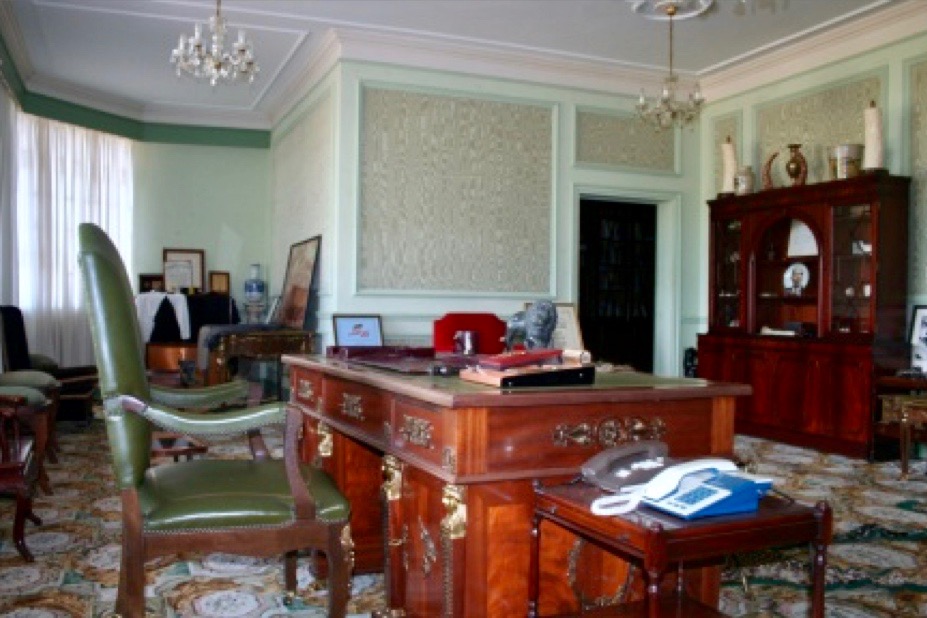 The study: note the lion- and leopard- skins.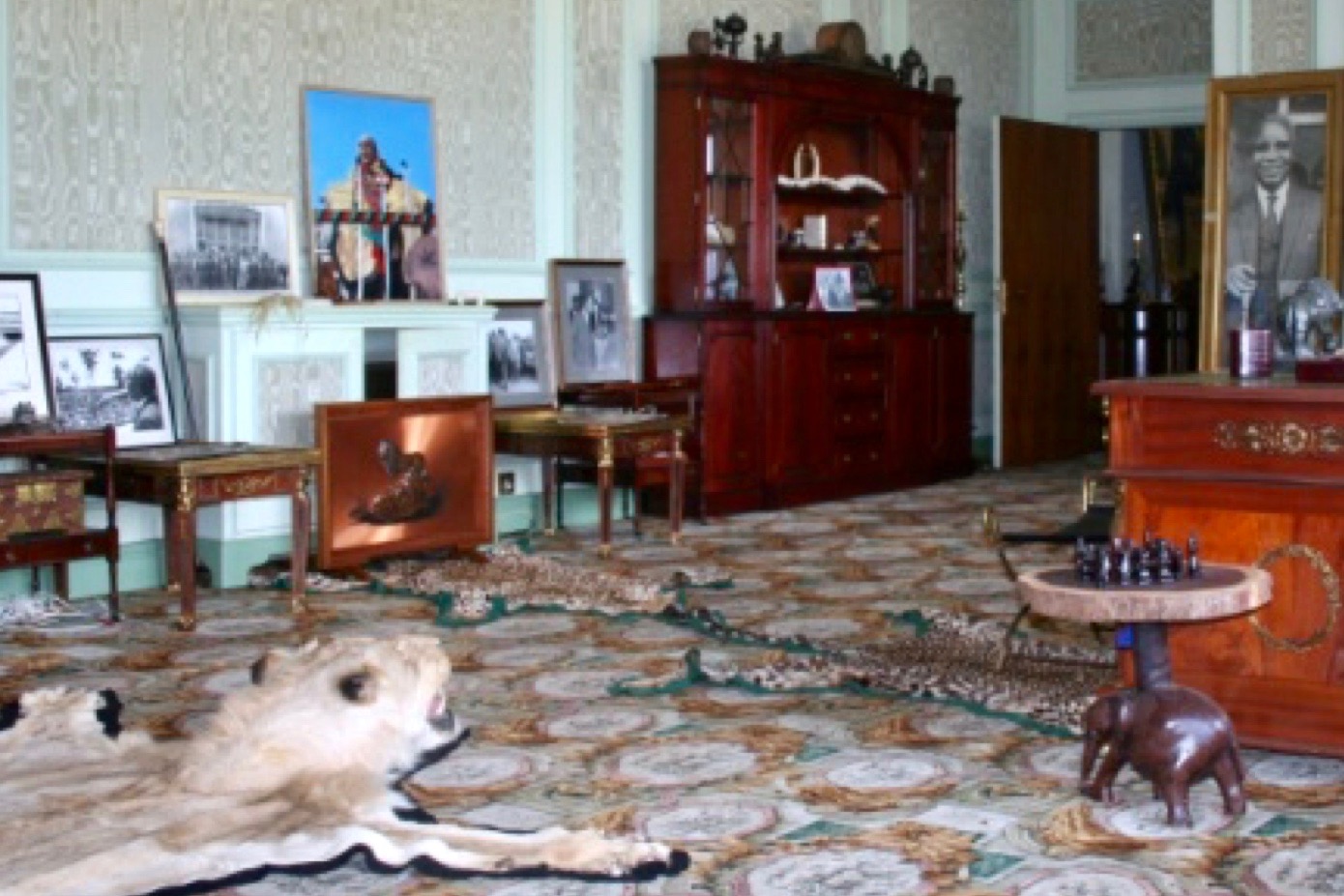 The core of the library consists in the books which Kamuzu Banda acquired and used as student in the United States and later, as student and medical practitioner in the United Kingdom: his signature (and later his stamp) attests principally to his interest, firstly, in the lives of the great men of European history, and secondly, as one would expect, in his medical studies. His preferred style develops from 'Hastings K. Banda' to 'H. Kamuzu Banda', which reflects doubtless his growing sense of African identity and personal destiny.[3] It is unfortunate that Kamuzu Banda would appear not to have been in the habit of annotating his books.[4]
It is not the purpose of this Catalogue to record every occurrence of Kamuzu Banda's ownership mark. Two instances, which are otherwise outside its scope, are, however, rather touching; for they are testament to the fact that Kamuzu Banda spent at least some of the time for which he was imprisoned by the British in Gwelo Prison (in what is now Zimbabwe) from March, 1959 to April, 1960 in reading in the history of his captors: Elizabeth Jenkins' Elizabeth the Great (London: Victor Gollancz Ltd., 1958) and Arthur Bryant's The Turn of the Tide 1939 – 1943: A Study based on the Diaries and Autobiographical Notes of Field Marshal The Viscount Alanbroke K.G. O.M. (London: Collins, 1957) both bear Kamuzu Banda's signature and the words 'H M Prison Gwelo'; and Kamuzu Banda dated his copy of Jenkins' book on Christmas Day, 1959.
In addition to the core, there is a large number of other books which display fewer indications of use: many are clearly diplomatic gifts (from countries as diverse as the United States of America and the Democratic People's Republic of Korea[5]) or books acquired on his travels (especially happy would appear to have been his return visits to his almae matres: Indiana, Chicago and Edinburgh Universities and Meharry Medical College, Nashville, Tennessee). In addition to history and medicine, there are substantial holdings in Africana and Malawiana, law and economics, and religion. Details of all books are to be found on the card index which Mr. Martin Chibwana prepared and which is now held in the library of Kamuzu Academy.[6] The total number of books in the library is just over one thousand.
It is necessary to mention, if not to recommend, Dr. Donald A. Brody's sycophantic and somewhat foolish eulogy of the library which appeared in a special edition of the Daily Times on 2nd December, 1997 in commemoration of Kamuzu Banda's death.[7] It is not to diminish the extraordinary achievement of Kamuzu Banda's life to seek to understand it from the perspective of history as opposed to hagiography. Brody's article does, however, mention a number of books which are no longer to be found in the library and whose present location is unknown.[8]
The Catalogue consists in an annotated record of every book (and one or two artifacts) of Classical interest – broadly defined but excluding Egyptology – which the authors found in the Dr. H. Kamuzu Banda Memorial Library and other rooms of the pavilion in May, 2011.[9] Their purpose in this pursuit transcends the merely bibliographic. For it is not unreasonable to assume that a man's interests are reflected in the books which he chuses to keep (in this at least they can agree with Brody); and in the case of Kamuzu Banda, there are important questions to ask about whether his self-professed and well-publicized devotion to the Classics had any secure foundation.[10] The Catalogue will to a large extent speak for itself. However, some preliminary observations are in order.
The Catalogue contains details of sixty-eight items, of which sixty-five are books. Of the three non-literary items, no. 66 is of special interest, for it records the details of Kamuzu Banda's formal study of Latin at Wilberforce Academy, Ohio, over the academic years 1926 – 1927 and 1927 – 1928. The report cards are framed and occupy a position of prominence in the study. They would have carried considerable significance for Kamuzu Banda, who arrived in Ohio from Johannesburg, South Africa, where he had worked as a clerk, in order to commence work on his High School Diploma at the advanced age of twenty-seven.[11] It is perhaps not inconsequent that in due course Kamuzu Banda would establish his own Academy, where all of the (expatriate) masters, in whichever discipline, were required to have studied Latin for at least two years.
Of the sixty-five books, nos. 1 – 12 might be disregarded as having been acquired most likely for decorative purposes. The remaining fifty-three extend from the schoolboy primer Ecce Romani I (no. 34) to a 1584 Aldine Press edition of Caesar's Commentaries (no. 65): the 'Nguru-ya-Nawambe Caesar'. Only four witness to personal use: Sellery and Krey's Medieval Foundations of Western Civilization (no. 58) bears Kamuzu Banda's signature; and two volumes of Gibbon's Decline and Fall of the Roman Empire (nos. 30 – 31) and Robinson's A History of the Roman Republic (no. 55) bear his stamp. He would have read all four volumes long before he returned to Nyasaland.
Kamuzu Banda's revived interest in the Classics dates to his State Address on the occasion of the State Opening to Parliament, 24th September, 1978, in which he declared the importance of Latin to a man's education: the Kamuzu Academy opened in 1981 and the University of Malawi introduced Latin in 1982.[12] The date of many of the remaining books is consonant with acquisition either at this time or as Kamuzu Banda's Classical interests became known. His principal affection, as befits a Life President and a man who had a genuine interest in the lives of the great men of European history, was for Caesar: there are no fewer than eleven editions, translations and studies (nos. 14 – 24 and 65), including the Nguru-ya-Nawambe Caesar, which is the treasure of the library.[13]
One book (no. 50) represents an important step towards the fulfilment of Kamuzu Banda's wish to introduce Classical learning to Malawi. For it must have been Prof. Robert Ogilvie himself who gave Kamuzu Banda a copy of The Romans and their Gods on his visit to Malawi in June – July, 1979. It was Ogilvie's report which led to the introduction of Latin to the University of Malawi in 1982.[14]
At least three books have associations to Kamuzu Academy. No. 62 is a handsome edition of Terence (P. Terentius Afer, of course: the choice of book is a donnish witticism): it was presented to Kamuzu Banda on his visit to Eton College on 26th April, 1985. The book attests to a relationship which led to at least two visits by parties of Etonians to the Academy in the 1980's. The gift of The Companion Guide to Rome (no. 46) by grateful pupils of the Academy reflects similarly the ability of the Classics to establish bridges between Africa and Europe. Dr. Paul McKechnie, who was Head of Classics at the Academy from 1987 to 1991, offered an authorial copy of Hellenica Oxyrhynchia (no. 47) to Kamuzu Banda: it is a touching tribute to the Founder. Moreover, it is likely that many of the school primers and editions which the library contains (for example, nos. 33 – 42) were presented to Kamuzu Banda for approval – he took personal interest in the conduct of the school – before their use at the Academy.
Among other gifts worthy of mention is that of Mama C. Tamanda Kadzamira, who offered 'His Excellency The Ngwazi' a copy of Room's Classical Dictionary at Christmas and New Year 1983 – 1984 (no. 56). As Official Hostess – or Mama – she was closer to Kamuzu Banda than perhaps anyone else: it is significant that she would consider such a book to be suitable as a personal gift.[15]
This Catalogue of the books of Classical interest in the Dr. H. Kamuzu Banda Memorial Library assembles evidence which will be important to the compilation of the history of the Classical tradition in Malawi: it is not the history itself. However, if we may draw a preliminary conclusion from its contents, it is perhaps that Kamuzu Banda's interest in the Classics was that of an amateur and an enthusiast[16]; and that it grew, most probably, out of his much earlier and better attested affection for the lives of the great men of European history. There is little evidence of linguistic knowledge or exploration of the Greek and Latin corpus in its entirety: it would require a reader of the school of Brody to argue that the library could belong to a Classical scholar.[17] But scholarship is not necessarily the most important quality in a Life President. Kamuzu Banda's public commitment to the Classics has allowed, some fourteen years after his death, the discipline to flourish in Malawi's exotic soil, to the pleasure of teachers and pupils alike, and with developments and the exploration of curious byways which prove the truth of the old saw, ex Africa semper aliquid novi.[18]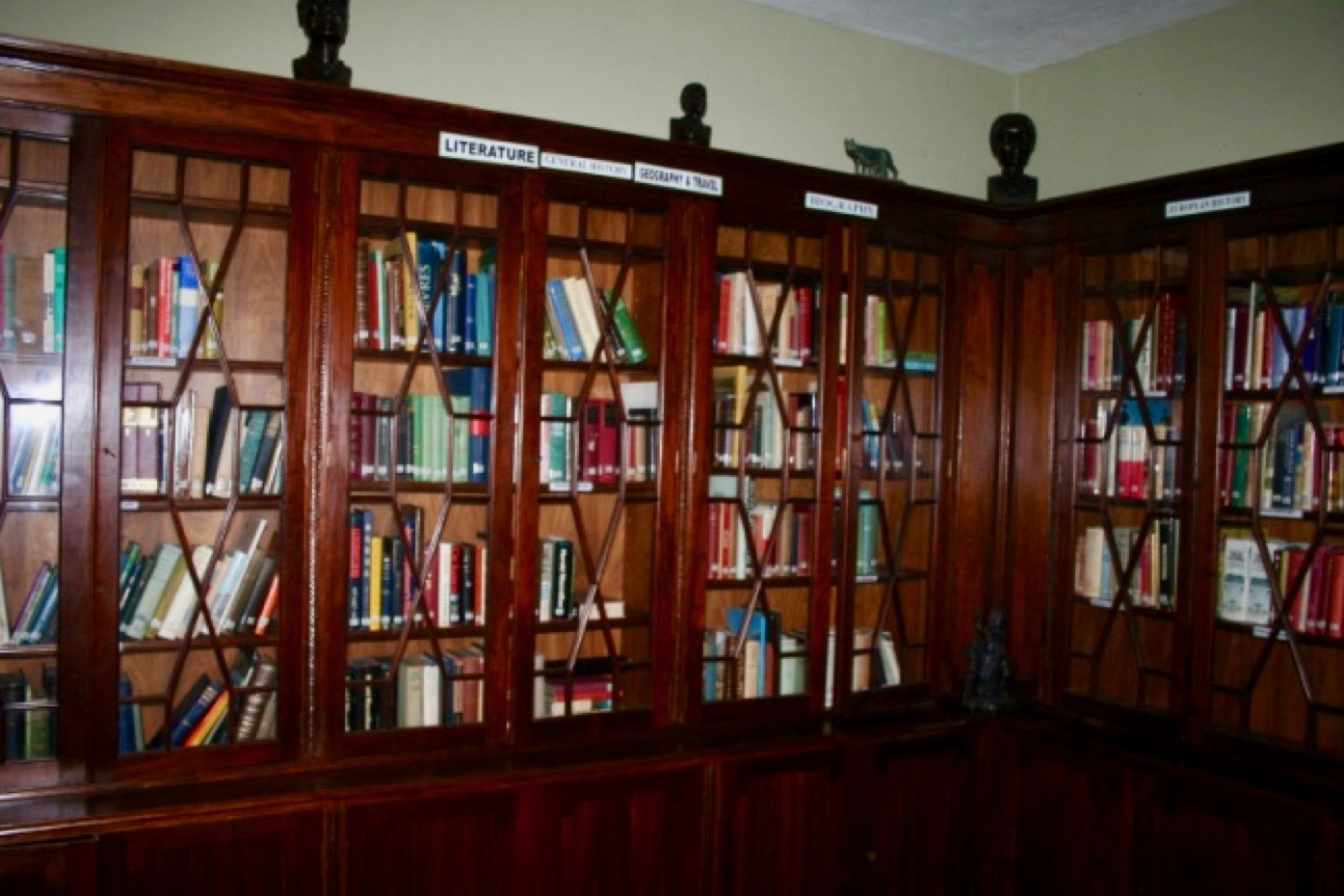 SECTION A
The following books are eighteenth- and nineteenth- century editions. They are, for the most part, bound in leather; and some are in poor condition. They shew no sign of recent use and are placed at random together with other odd volumes of similar appearance in a separate cabinet in a corner of the library. It is probable that they were acquired for decorative purposes.
01
[ANTHOLOGY]: Patrum Apostolicorum Opera, ed. C. I. HEFELE, 3rd ed. (Tübingen: In Bibliopolio Henrici Laupp, 1847)
02
[ANTHOLOGY]: Poetae Graeci sive Selecta in usum regiae scholae Etonensis, ed. nov. (London: E. Williams, 1814)
03
ARNOLD, M.: Selected Poems of Matthew Arnold, repr. (London and New York: Macmillan and   Co., 1890
04
EUCLID: The Elements of Euclid, ed. R. SIMSON, 12th ed. (London: F. Wingrave, 1804)
05
EURIPIDES: Tragoediae, vol. 7 [Bacchae and Cyclops], ed. S. MUSGRAVE (Glasgow: Andreas Foulis, 1797)
06
[GRAMMAR]: The Eton Greek Grammar, Part 1, tr. Rev. W. ROUTLEDGE (Eton: E. P. Williams and London: G. Routledge and Co., 1854), bound with An Appendix to the Greek Grammar, compiled, for the use of Eton School, from his Larger Grammar, W. E. JELF (Eton: E. P. Williams, 1849)
07
HERODOTUS: Ιστοριων Λογοι Θ, ed. G. LONG, 2nd ed. (London: Taylor and Walton, 1838)
08
HOMER: [Iliad Ζ – Μ] [19th century; frontispiece missing]
09
HOMER: Οδυσσεια, etc., τμημα δευτερον (εν Οξονια, αψπβ)
10
HORACE: Quinti Horatii Flacci Poëmata, ed. C. ANTHON, 9th ed. rev. J. BOYD (London: T. Tegg, 1845)
11
MACAULAY, Lord: Lays of Ancient Rome, with Ivry and the Armada, new ed. (London: Longmans, Green and Co., 1874)
12
VIRGIL: The Works of Virgil translated into English verse by Mr. Dryden, vol. 3 (Perth: R. Morison and Son and Edinburgh: G. Mudie, 1791)
SECTION B
The following books are placed in the main part of the library: they encompass school primers, popular accounts of Classical history, coffee-table books, editions, translations and works of Classical scholarship. Some bear dedicatory inscriptions; and four, which bear Kamuzu Banda's   signature and stamp, witness to personal use.
13
[BIBLE]: The New Testament in Greek, ed. F. H. A. SCRIVENER, repr. (Cambridge: University Press, 1908)
Gift of ? Barbour (initials indistinct), 19th April, 1980, ex libris Redman Barbour
14
CAESAR: Caesar's Gallic War, Book V, ed. R. C. CARRINGTON, repr. (London: G. Bell and Sons, 1957)
15
CAESAR: Caesar's War Commentaries, tr. J. WARRINGTON, repr. (London: Dent and New York: Dutton, 1965)
16
[CAESAR]: All About Julius Caesar, J. GUNTHER (London: W. H. Allen, 1967)
17
[CAESAR]: Julius Caesar, R. WARNER, repr. (London: Collins, 1967)
18
CAESAR: De Bello Gallico, Liber VI, ed. E. C. KENNEDY (London: University Tutorial Press Ltd., 1969)
19
CAESAR: Commentariorum… Libri III De Bello Civili, ed. R. du PONTET, repr. (Oxford: e typographeo Clarendoniano, 1971)
20
CAESAR: The Civil War, tr. J. F. MITCHELL, repr. (Harmondsworth, Middx.: Penguin Books, 1972
21 – 22
[CAESAR]: Caesar, M. GRANT (London: Weidenfeld and Nicolson, 1974), two copies
23
CAESAR: The Conquest of Gaul, tr. S. A. HANDFORD, repr. (Harmondsworth, Middx.: Penguin Books, 1974)
24
CAESAR: Gallic and Civil Wars: Selected Passages, ed. G. W. IRVINE, 2nd ed. rev. (Cape Town, Wynberg and Johannesburg: Juta and Co. Limited, 1975)
25
[CARREY]: The Carrey Drawings of the Parthenon Sculptures, ed. T. BOWIE and D. THIMME (Bloomington and London: Indiana University Press, 1971)
26
CEAUŞESCU, Lt. Gen. I.: From the Dacian State to Socialist Romania: Two Thousand Years of Statehood (Bucharest: Military Publishing House, 1985)
27
CORNELL, T. and J. MATTHEWS: Atlas of the Roman World (Oxford: Phaidon, 1982)
28
CUNLIFFE, B.: Rome and Her Empire (London, Sydney and Toronto: The Bodley Head, 1978)
29
EASTERLING, P. E. and B. W. M. KNOX, ed.: Cambridge History of Classical Literature, vol. 1, repr. (Cambridge: Cambridge University Press, 1990)
30 – 31
GIBBON, E.: Decline and Fall of the Roman Empire, vol. 1 and 3, ed. O. SMEATON, repr. (London: J. M. Dent and Sons Ltd. and New York: E. P. Dutton and Co. Inc., 1946 and 1950)
Stamped (both volumes) 'H. Kamuzu Banda'
32
[GIBBON, E.]: Gibbon's Decline and Fall of the Roman Empire: Abridged and Illustrated, repr. (London: Bison, 1985)
33
[GRAMMAR]: Brevitas, M. E. Hardwick, 9th imp. (London, Sydney, Auckland and Toronto: Hodder and Stoughton, 1977)
34 – 41
[GRAMMAR]: Ecce Romani, Books 1 – 6 [Teacher's and Students' Books], repr. (Edinburgh: Oliver and Boyd, 1973 – 1979)
42
[GRAMMAR]: Thrasymachus, C. W. E. PECKETT and A. R. MUNDAY, repr. (Shrewsbury: Wilding and Son Ltd., 1977)
43
HARDY, E. G.: Some Problems in Roman History (Oxford: Clarendon Press, 1924)
44
HAYNES, D. E. L.: Fifty Masterpieces of Classical Art in the British Museum (London: British Museum Publications Ltd., 1970)
45
KENT, J. P. C., M. HIRMER and A. HIRMER: Roman Coins (London: Thames and Hudson, 1978)
Gift of Dinal and Catherine Byrne, Christmas, 1984
46
MASSON, G.: The Companion Guide to Rome, 6th ed. (London: Collins, 1985)
Gift of 'the Kamuzu Academy students who visited West Germany and Rome'
47
MCKECHNIE, P. R. and S. J. KERN, ed.: Hellenica Oxyrhynchia (Warminster, Wilts.: Aris and Phillips, 1988)
Gift of P. R. McKechnie, 21st March, 1989
48
MURRAY, G.: Greek Studies (Oxford: Clarendon Press, 1946)
49
[NERO]: The Life and Times of Nero, C. M. FRANZERO (London: Alvin Redman Limited, 1954)
Gift of ? Barbour (initials indistinct), 19th April, 1980, ex libris Edward Barbour
50
OGILVIE, R. M.: The Romans and their Gods, 3rd imp. (London: Chatto Windus, 1979)
51
PLAUTUS: vol. 4 [The Little Carthaginians, Pseudolus and The Rope], ed. and tr. P. NIXON, repr. (London: William Heinemann Ltd. and Cambridge, MA: Harvard University Press, 1965)
52 – 54
RICE HOLMES, T.: The Roman Republic, vol. 1 -3 (Oxford: Clarendon Press, 1923)
55
ROBINSON, C. E.: A History of the Roman Republic, 2nd ed. (London: Methuen and Co. Ltd., 1937)
Stamped 'H. Kamuzu Banda'
56
ROOM, A.: Room's Classical Dictionary: The Origins of the Names of Characters in Classical Mythology(London, Boston, Melbourne and Henley: Routledge and Kegan Paul, 1983)
Gift of Mama C. Tamanda Kadzamira, Christmas and New Year, 1983 - 1984
57
SAKELLARIOU, M. B. ed.: Macedonia: 4000 years of Greek history and civilization (Athens: Ekdotike Athenon SA, 1983)
58
SELLERY, G. C. and A. C. KREY: Medieval Foundations of Western Civilization (New York and London: Harper and Brothers Publishers, 1929)
Signed 'Hastings K. Banda'
59
[SHAKESPEARE, W.]: For the Special attention of H. E. The Life President:  Julius Kaezare, wotembenuzira (tr.) S. A. PALIANI [undated MS]
60
STIERLIN, H.: The Cultural History of Rome (London: Aurum Press Ltd., 1983)
61
STOBART, J. C.: The Grandeur that was Rome, 5th ed. rev. W. S. MAGUINNESS and H. H. SCULLARD (New York and Washington: Praeger Publishers, 1971)
62
TERENCE: P. Terenti Afri Comoediae (London: Carolus Whittingham, 1854)
Gift of Eton College on Kamuzu Banda's visit, 26th April, 1985
63
THUCYDIDES: The History of the Peloponnesian War, tr. Sir R. W. LIVINGSTONE, repr. (London, New York and Toronto: Geoffrey Cumberlege for Oxford University Press, 1946)
64
[Vatican]: The Vatican and Christian Rome (Vatican City: Libreria Editrice Vaticana, 1975)
SECTION C
The following book is the treasure of the library. It is kept in the archive room in a tooled leather case which bears the mark of 'A. Antinori, Roma'. With the exception of unsightly library stamps and the odd scribble, it is in excellent condition.
65
CAESAR: C. Iulii Commentarii ab Aldo Manutio Paulli F. Aldi N. emendati et scholiis illustrati (Venice: Apud Fioraventem a Prato, 1584)
SECTION D
The following three exhibits should also be recorded. Items 66 and 67 are displayed in the study; item 68 in the library.
66
Kamuzu Banda's Report Cards for the Years 1925 – 1928 from Wilberforce Academy, Ohio (not named)
67
An antique pottery jug of the aryballos type: the box indicates that it was acquired in Jerusalem
68
A tourist replica of the Capitoline Wolf
Items 1 – 12
These books are scattered among others of no discernible common interest but of uniform appearance in this book-case.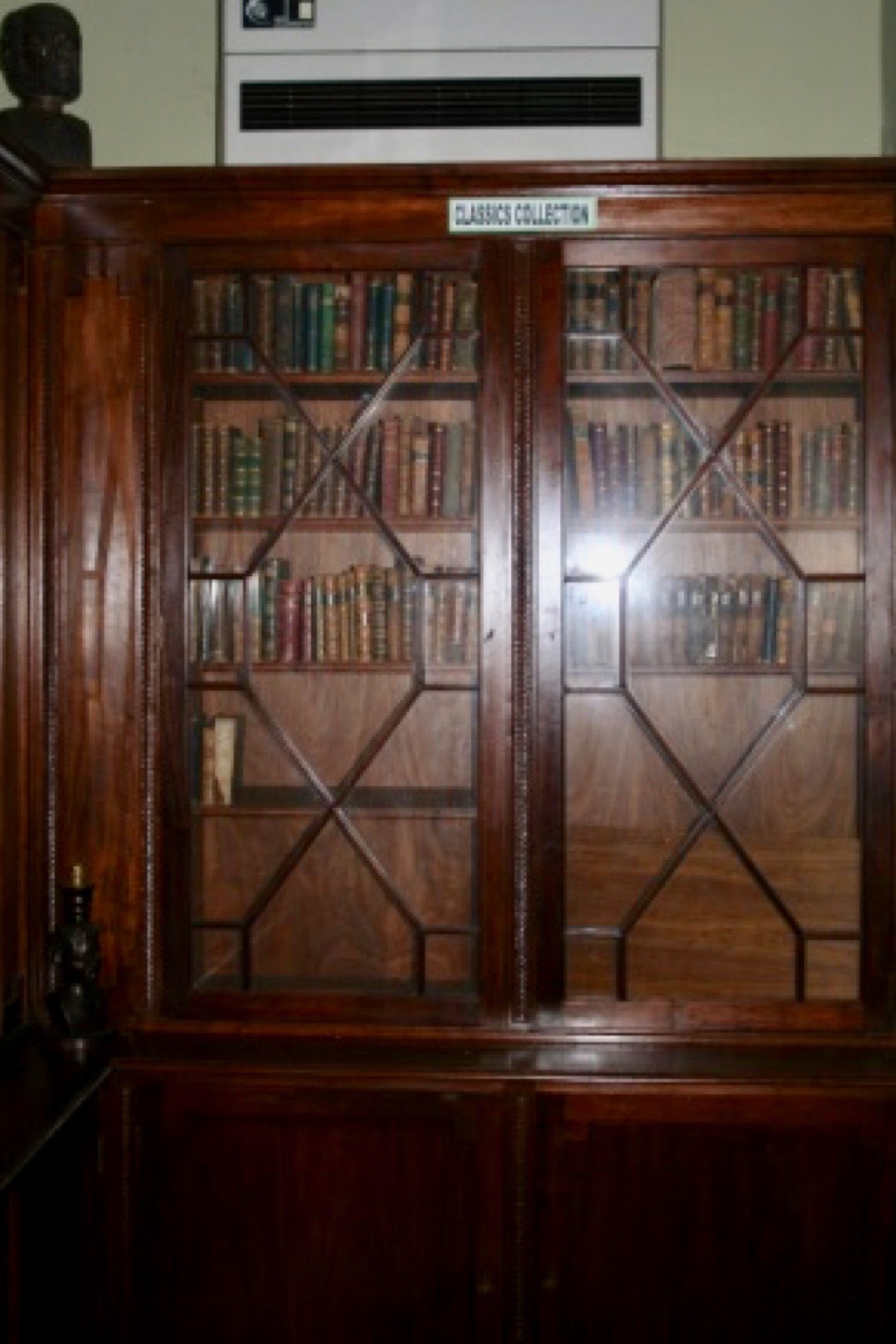 Item 46
Such visits were possible when Kamuzu Academy enjoyed the personal patronage of its Founder.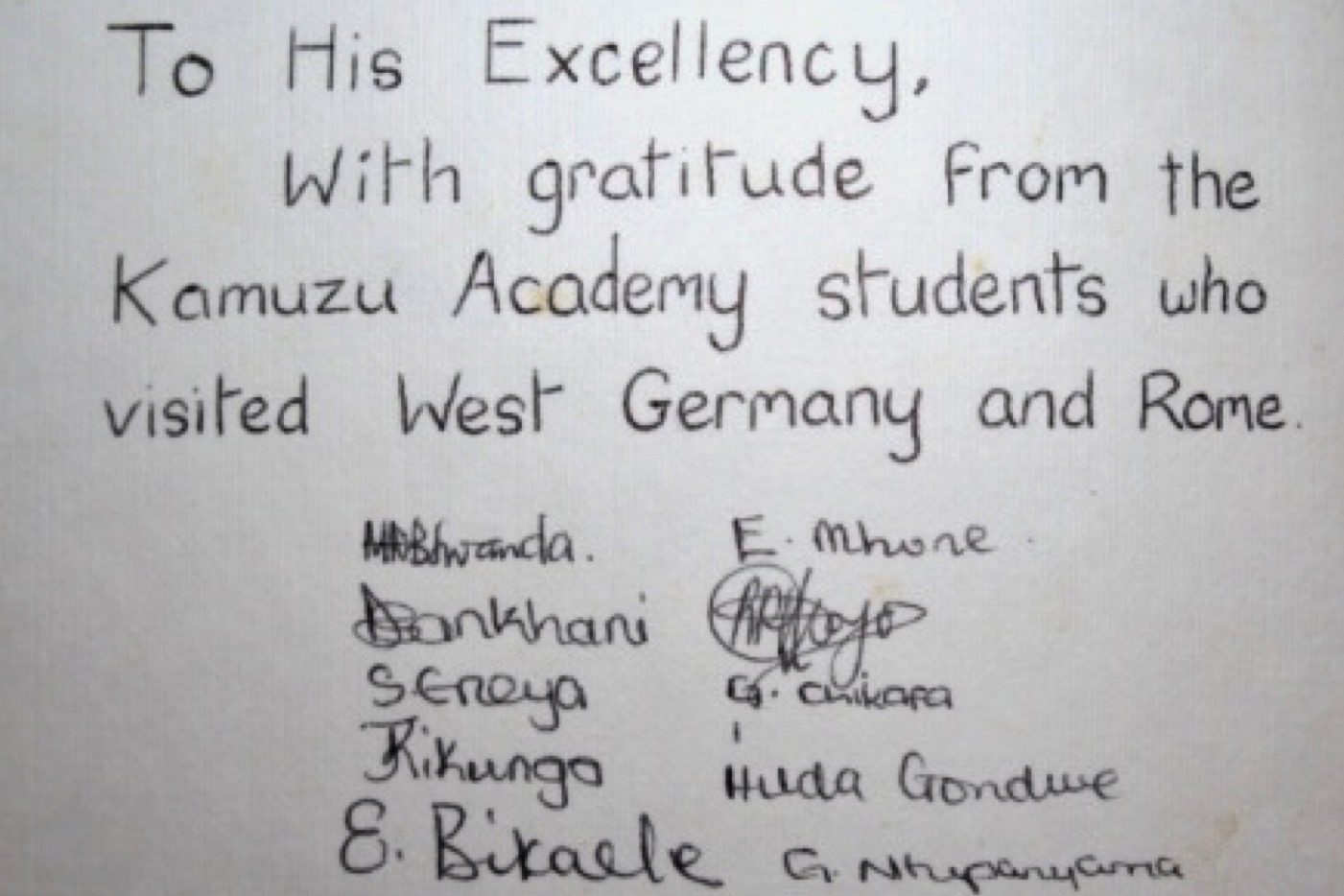 Item 56
Mama C. Tamanda Kadzamira, who remains active in her support of Kamuzu Academy, was Official Hostess during Kamuzu Banda's reign. She is known with popular affection as Mama.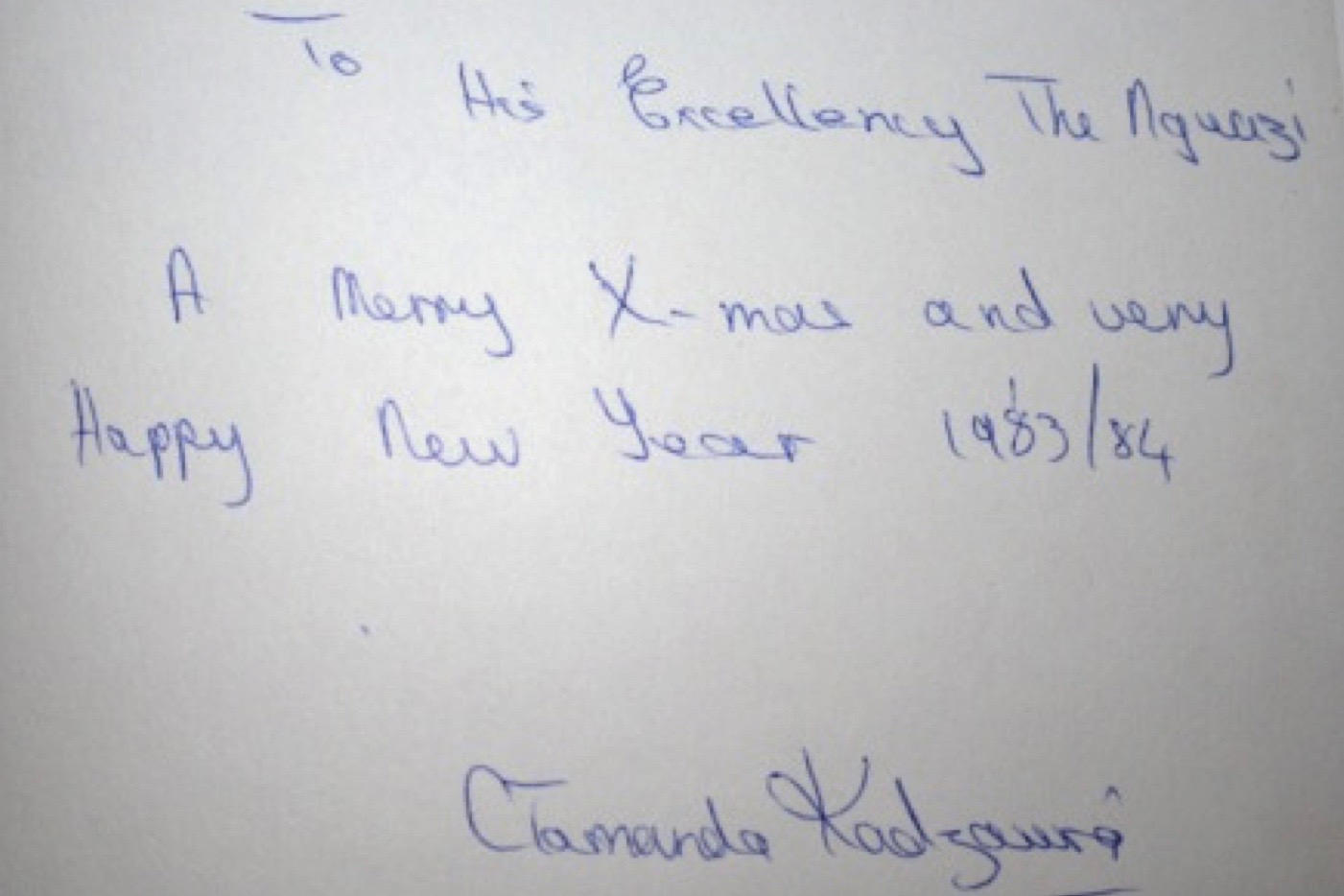 Item 58
If Kamuzu Banda acquired this book when newly published, he would have been an undergraduate at Indiana University. He studied there from 1928 to 1930, but migrated to Chicago University, where he graduated, in 1930. His subsequent medical studies were at Meharry Medical College, Nashville, Tennessee.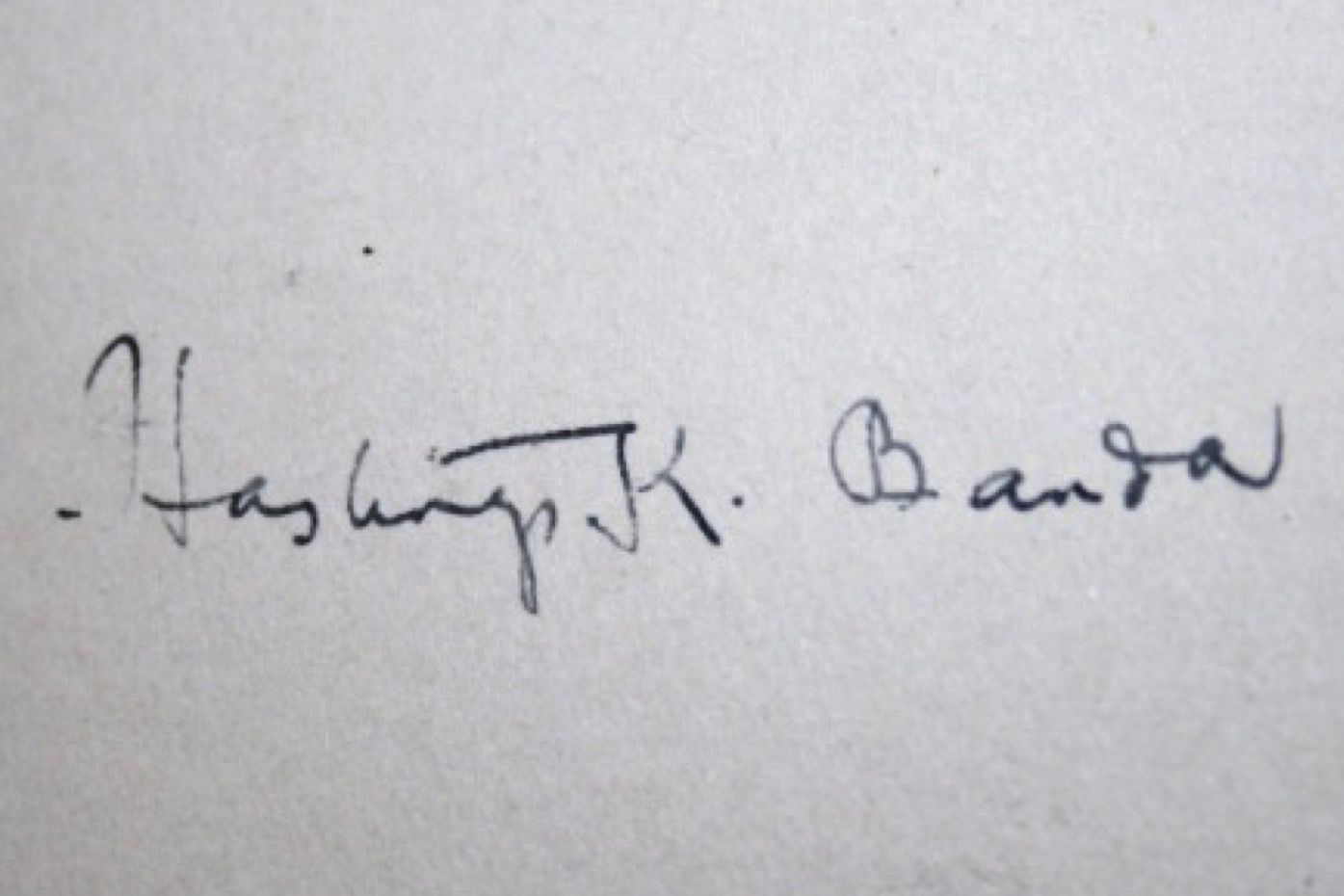 Item 62
This gift, which was doubtless chosen on account of Terence's cognomen Afer, is an Eton leaving book, first presented to one 'Gulielmus Iacobus Boys' in 1857. The library contains another (unpresented) leaving book: Treasures of Eton, ed. J. McCONNELL (London: Chatto and Windus, 1976), which is a gift of January, 1984 to Kamuzu Banda by Eric Anderson: he signs himself 'first Church of Scotland Head Master of Eton'.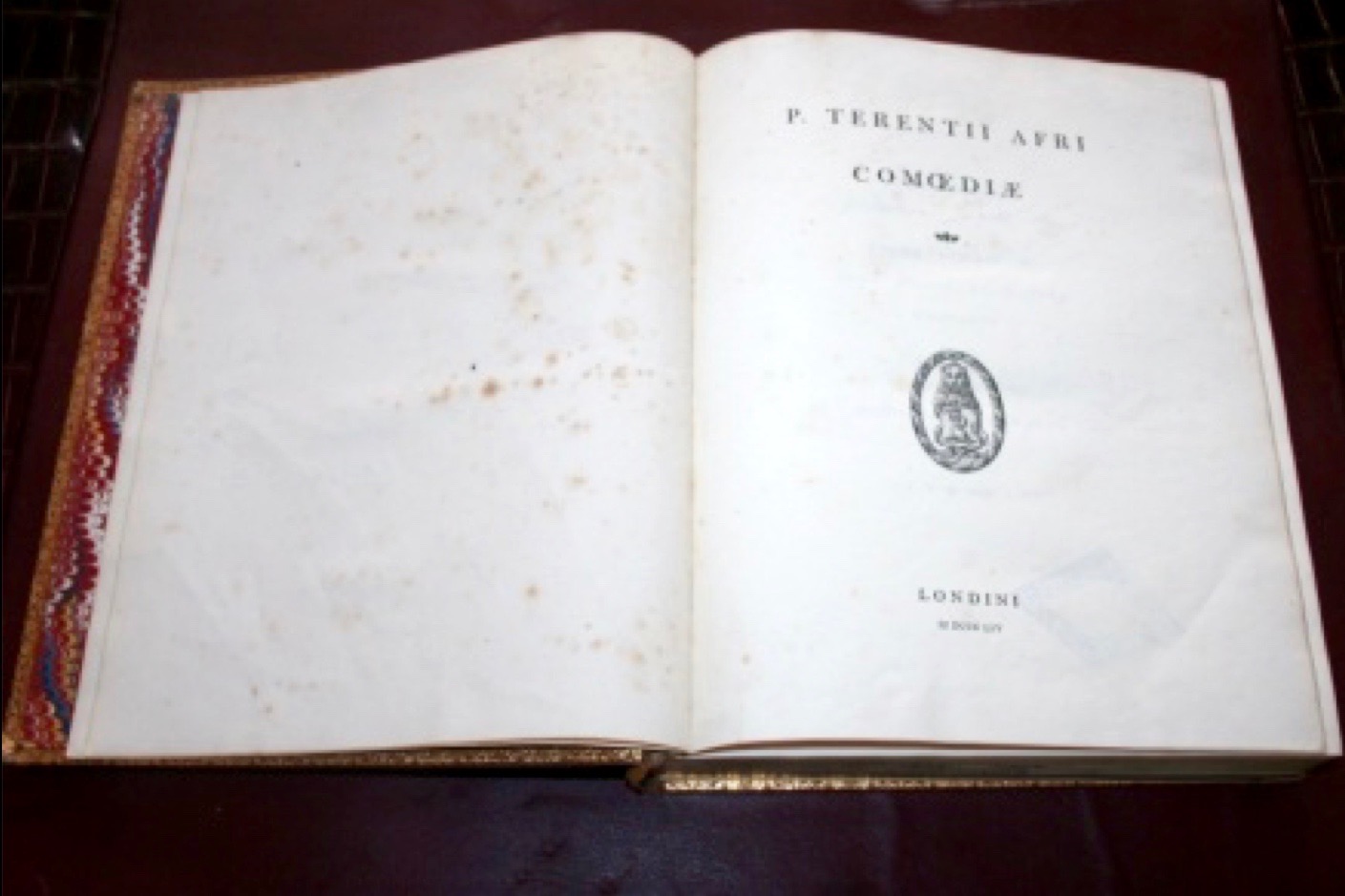 Kamuzu Banda visited Eton College in 1985; and parties of Etonians made at least two visits to Kamuzu Academy in the 1980's.It was on one such visit that Anderson is related to have said, 'I am told that Kamuzu Academy is called the Eton of Africa. When I return to Britain I shall call Eton the Kamuzu Academy of England.'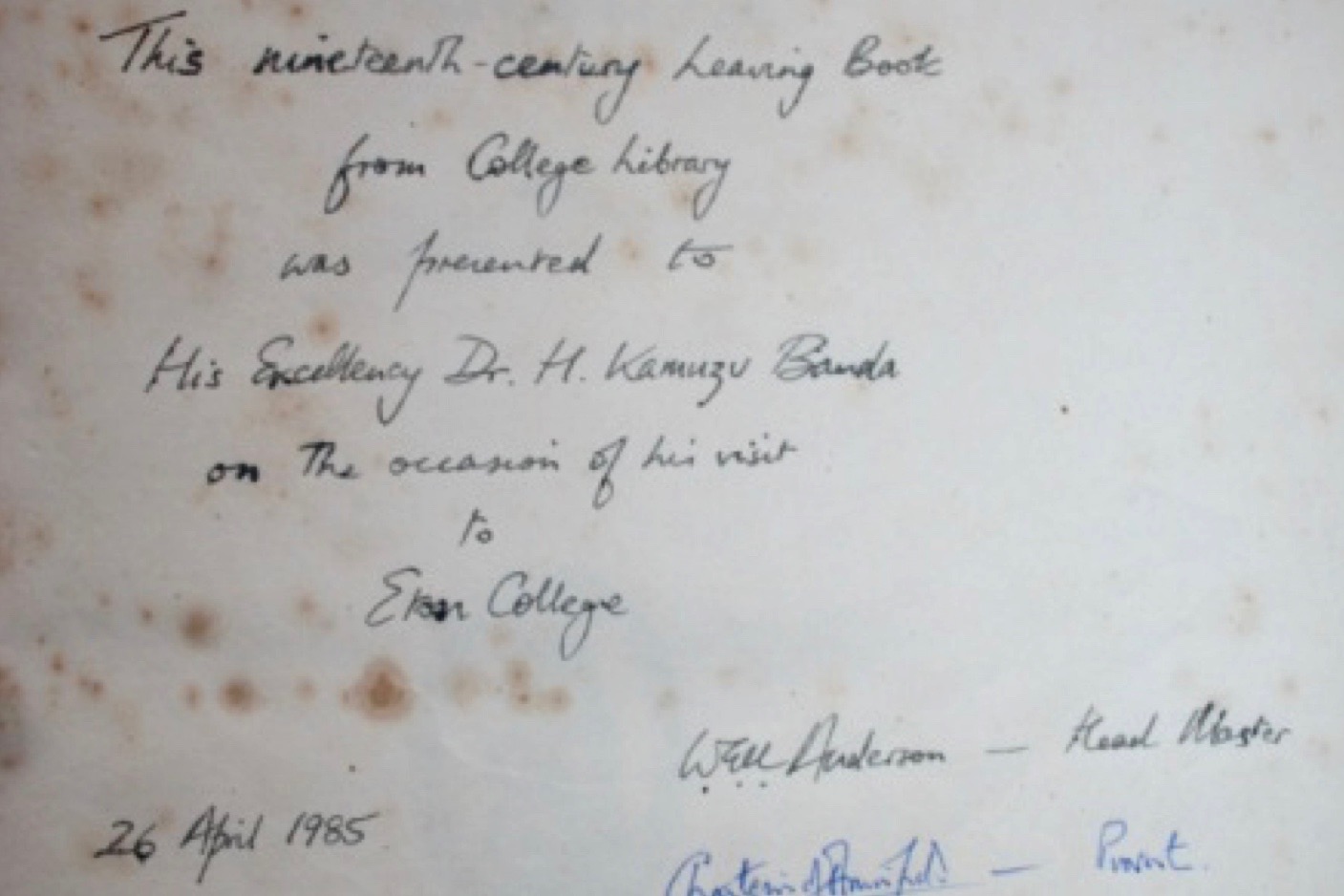 Item 65
Mr. Alexander Suebsaeng, Kamuzu Academy Classics Department 2009 – 2011, holds the Nguru-ya-Nawambe Caesar before a portrait of Kamuzu Banda.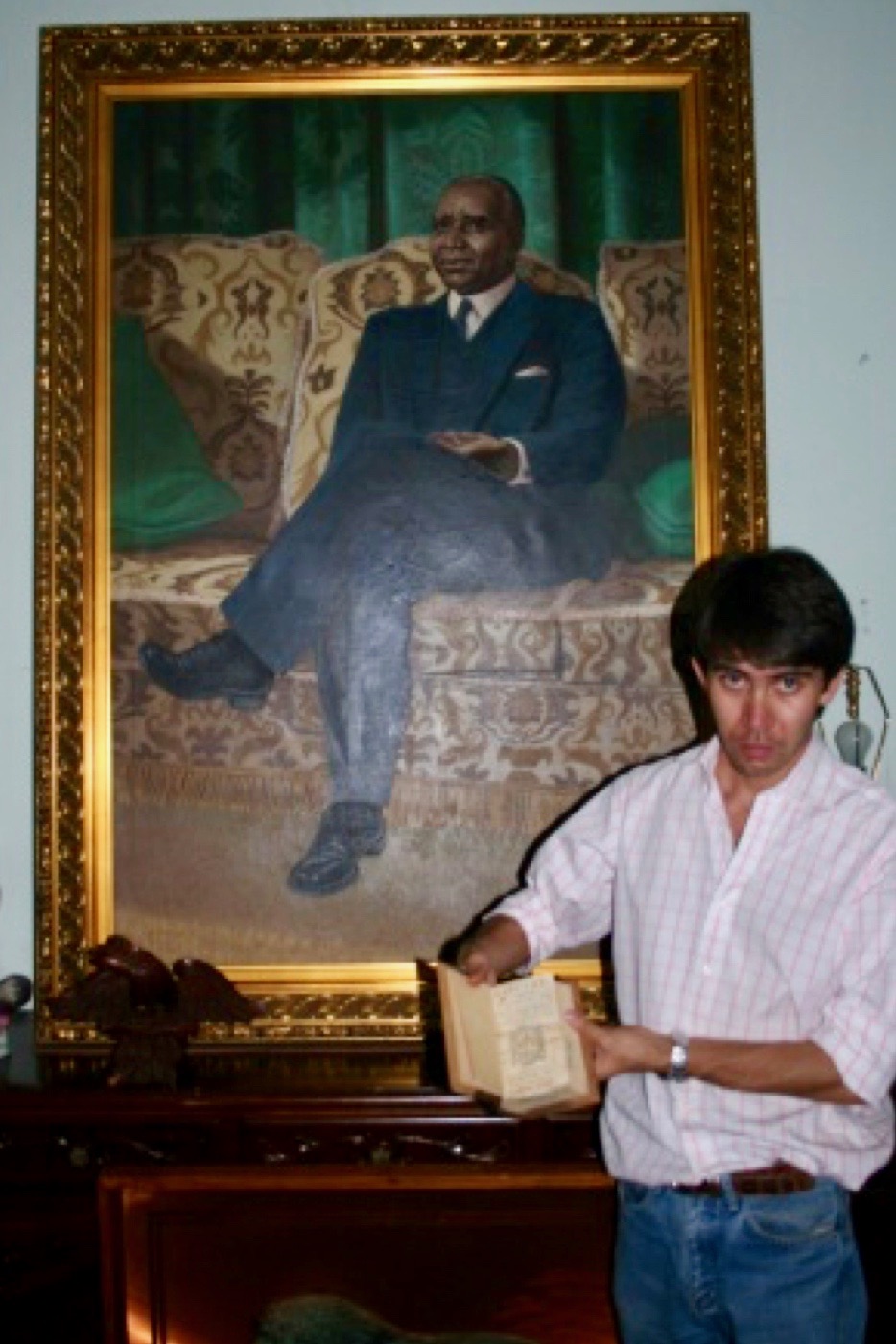 Details of the Nguru-ya-Nawambe Caesar: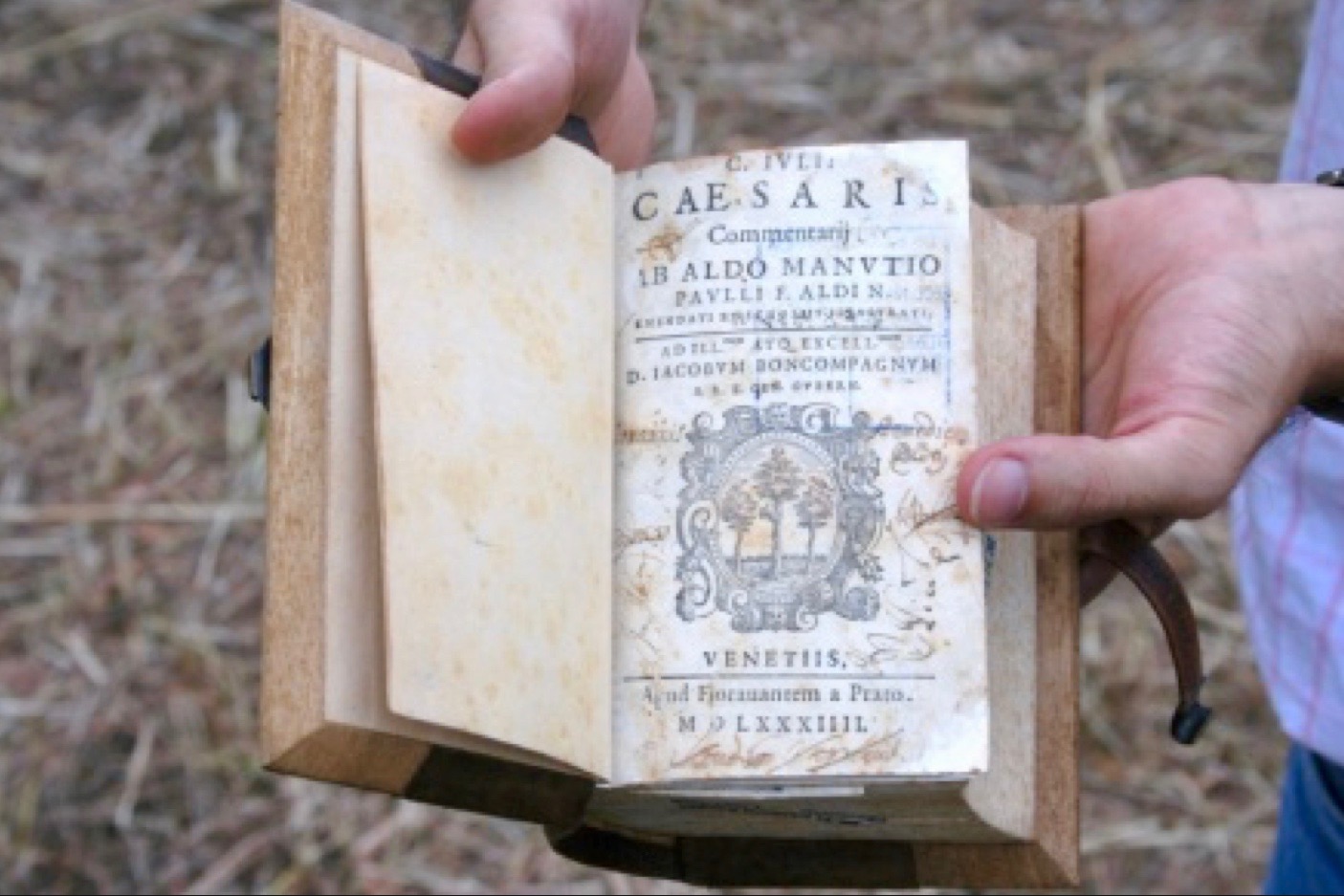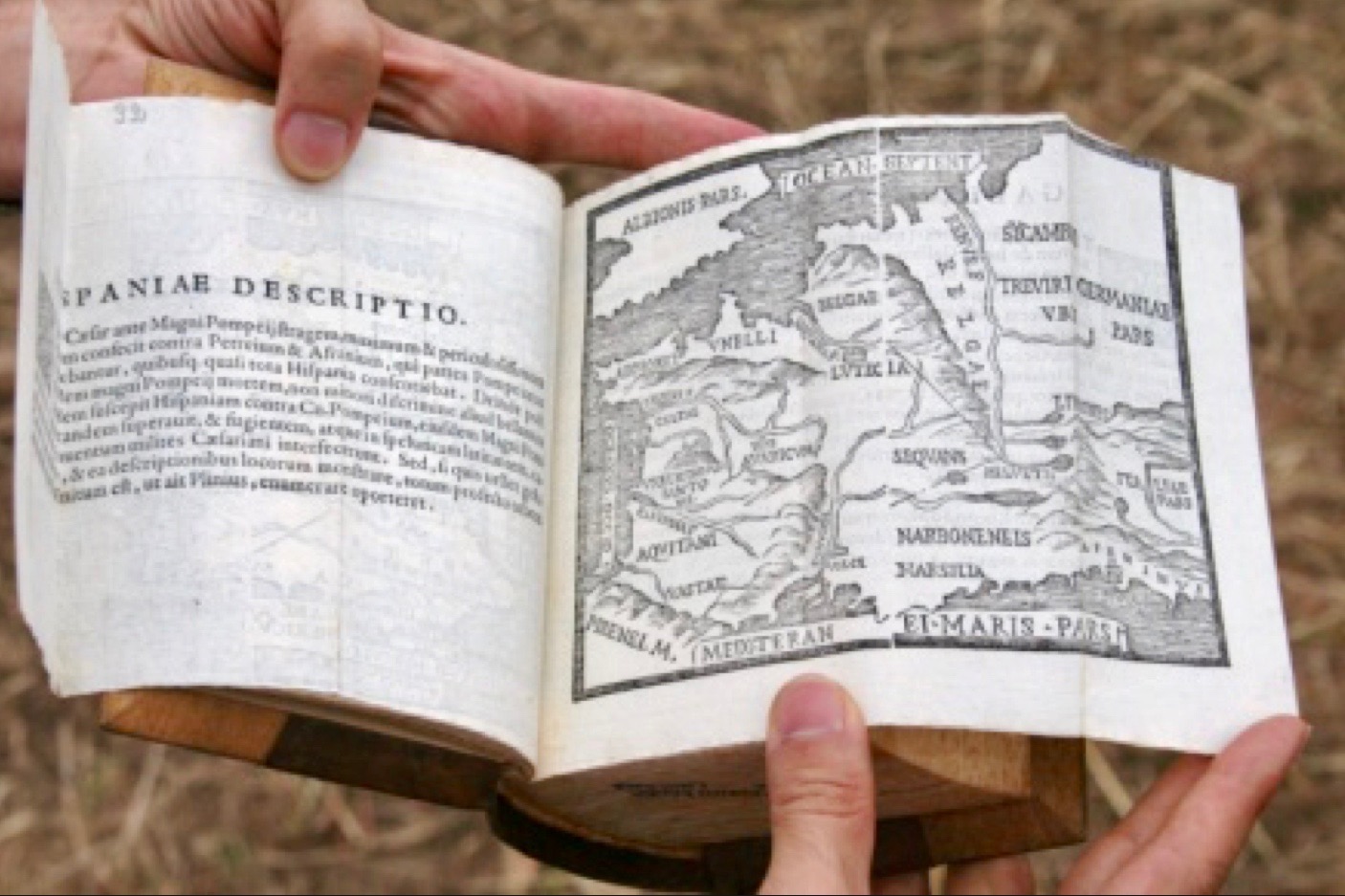 … the Siege of Uxellodunum…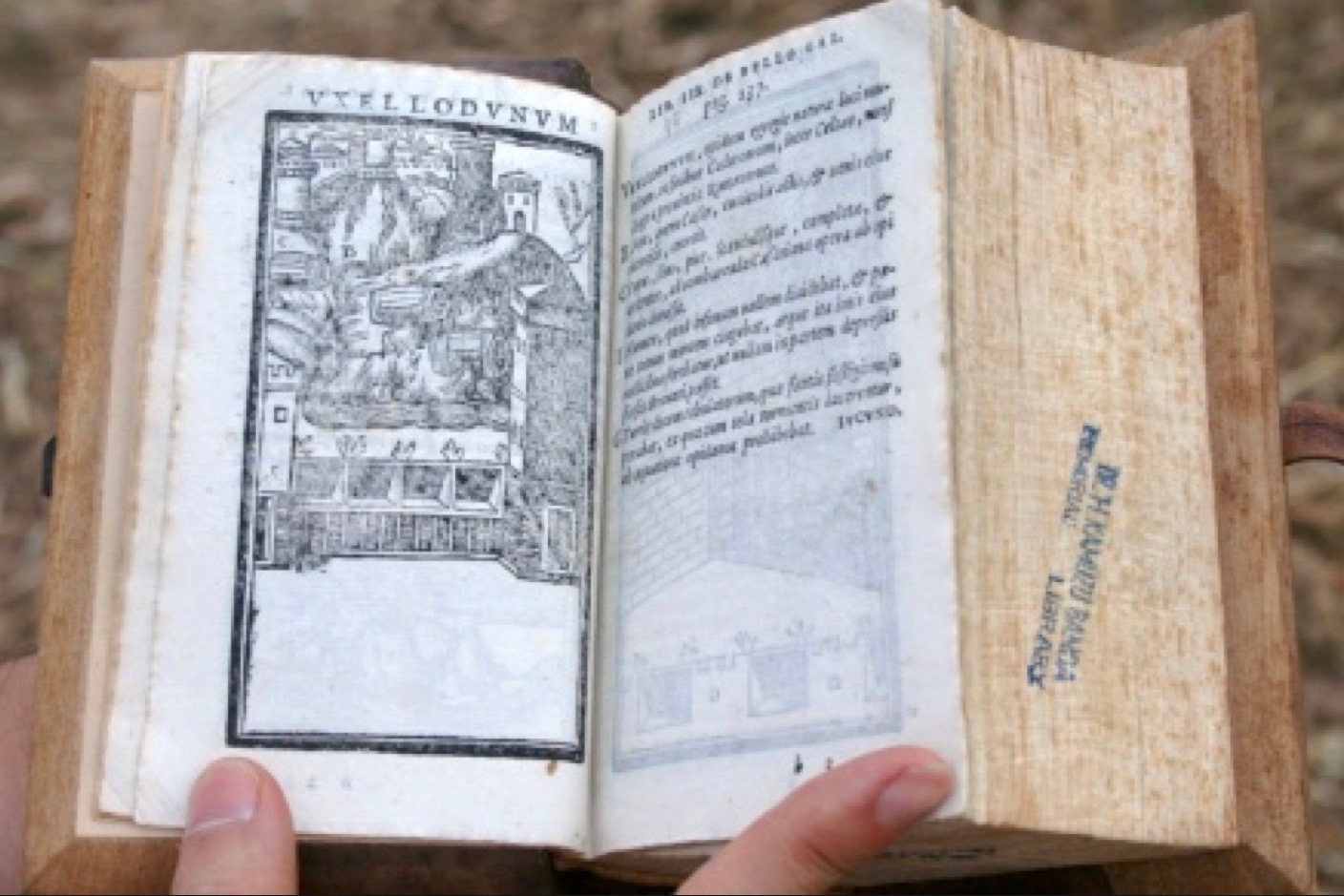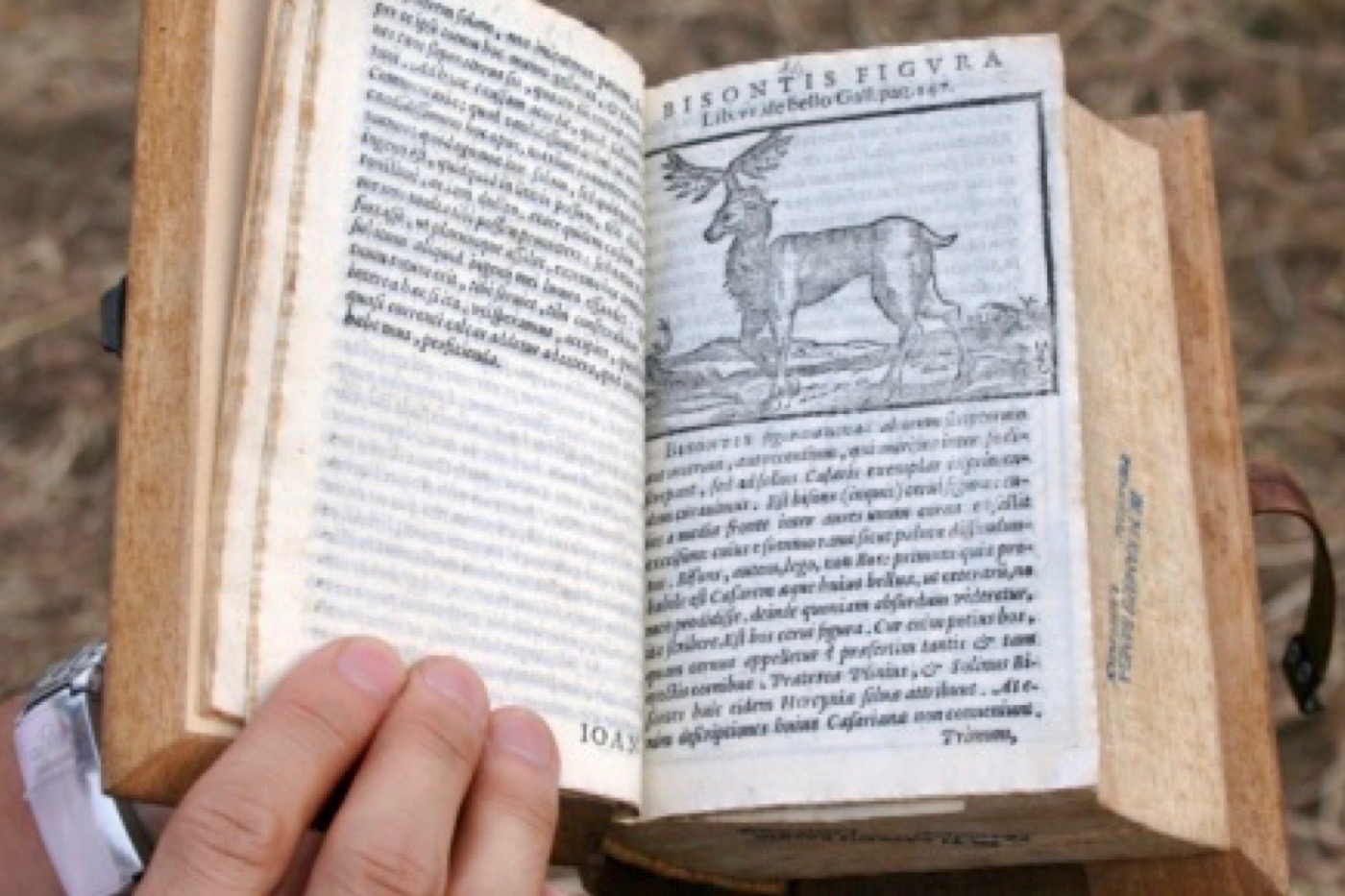 ... and the Library Stamp.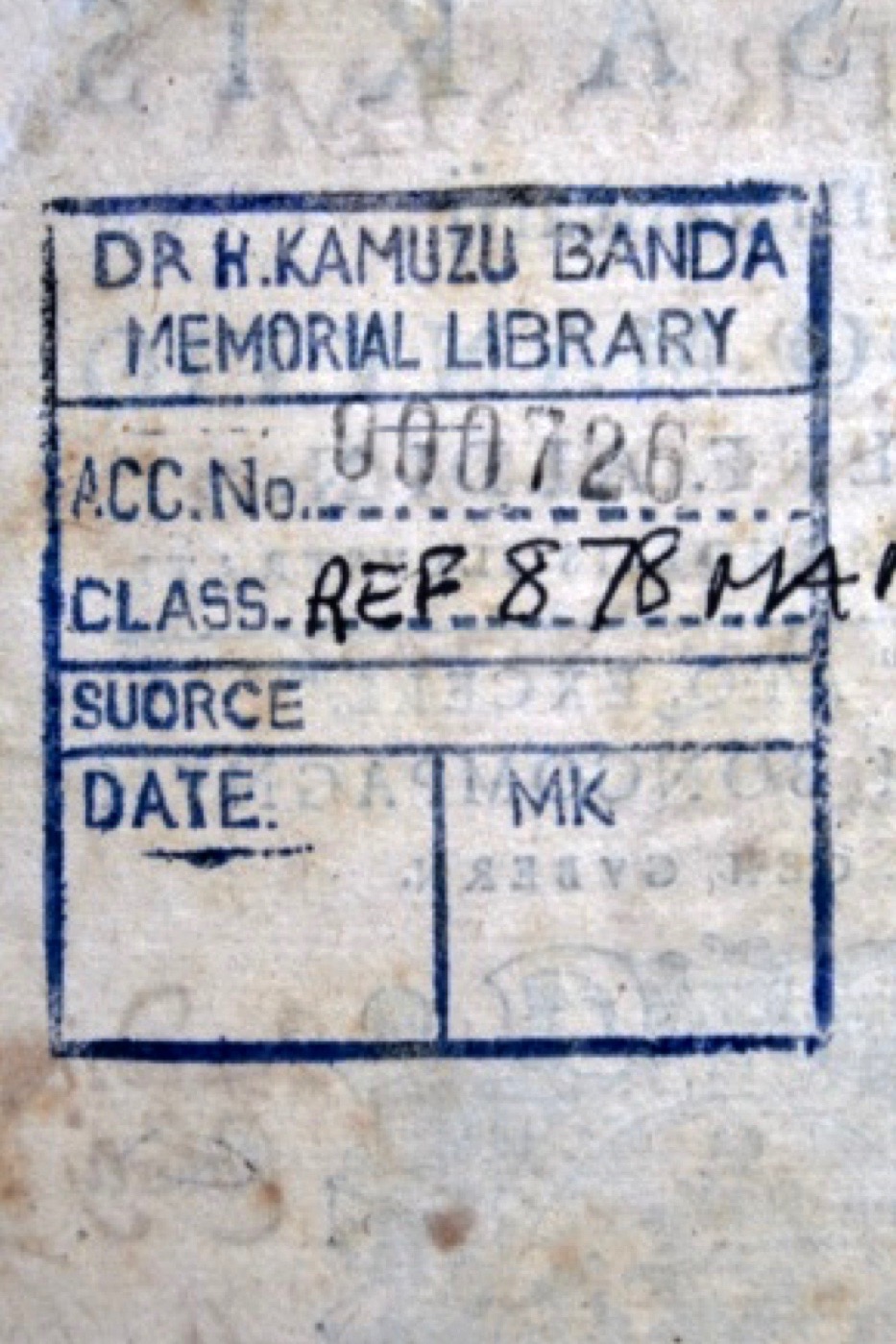 Item 66
Kamuzu Banda pursued a High School Diploma at Wilberforce Academy, Ohio, from 1925 to 1928. The report card witnesses to the fact that he studied Latin for seven terms in his second and third years, receiving five A and two B grades.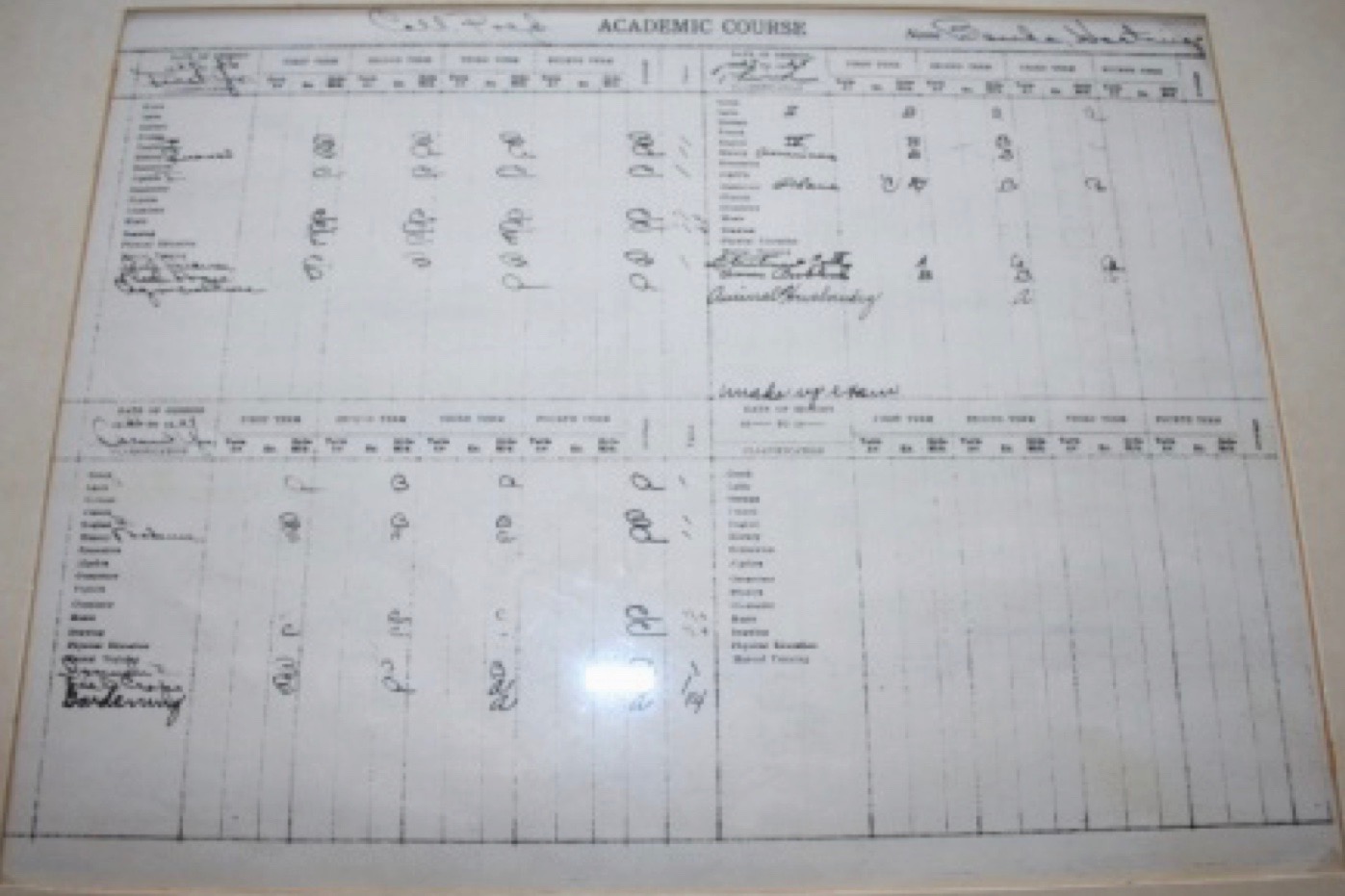 Item 67
The aryballos was used to contain olive oil and unguent and was associated especially with the athletic ground. This example is everyday ware: if its provenance is Palestine, it is likely to date to the early Christian era.
It found its way to Nguru-ya-Nawambe doubtless as a gift to Kamuzu Banda.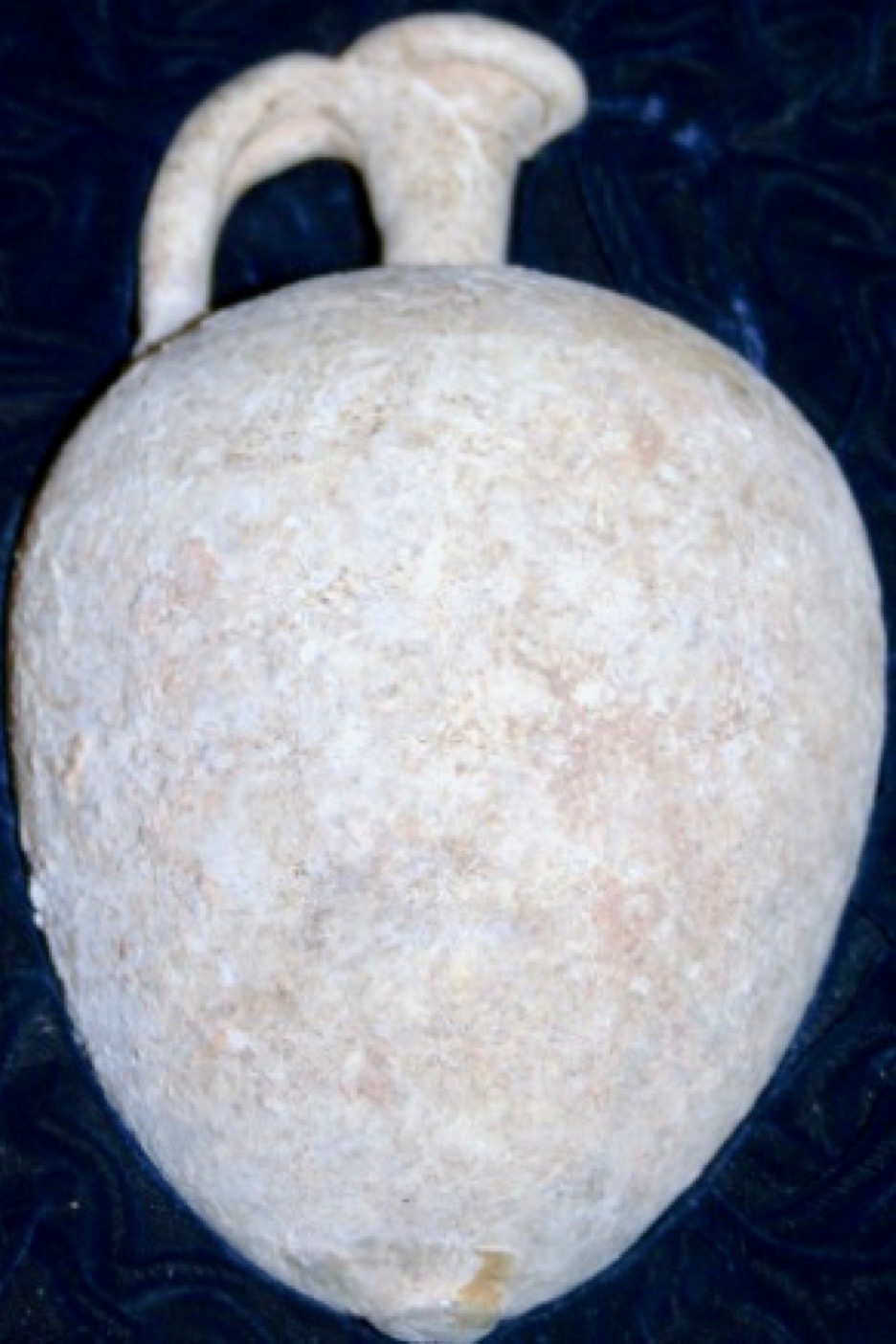 Item 68
The She-wolf suckles Romulus and Remus.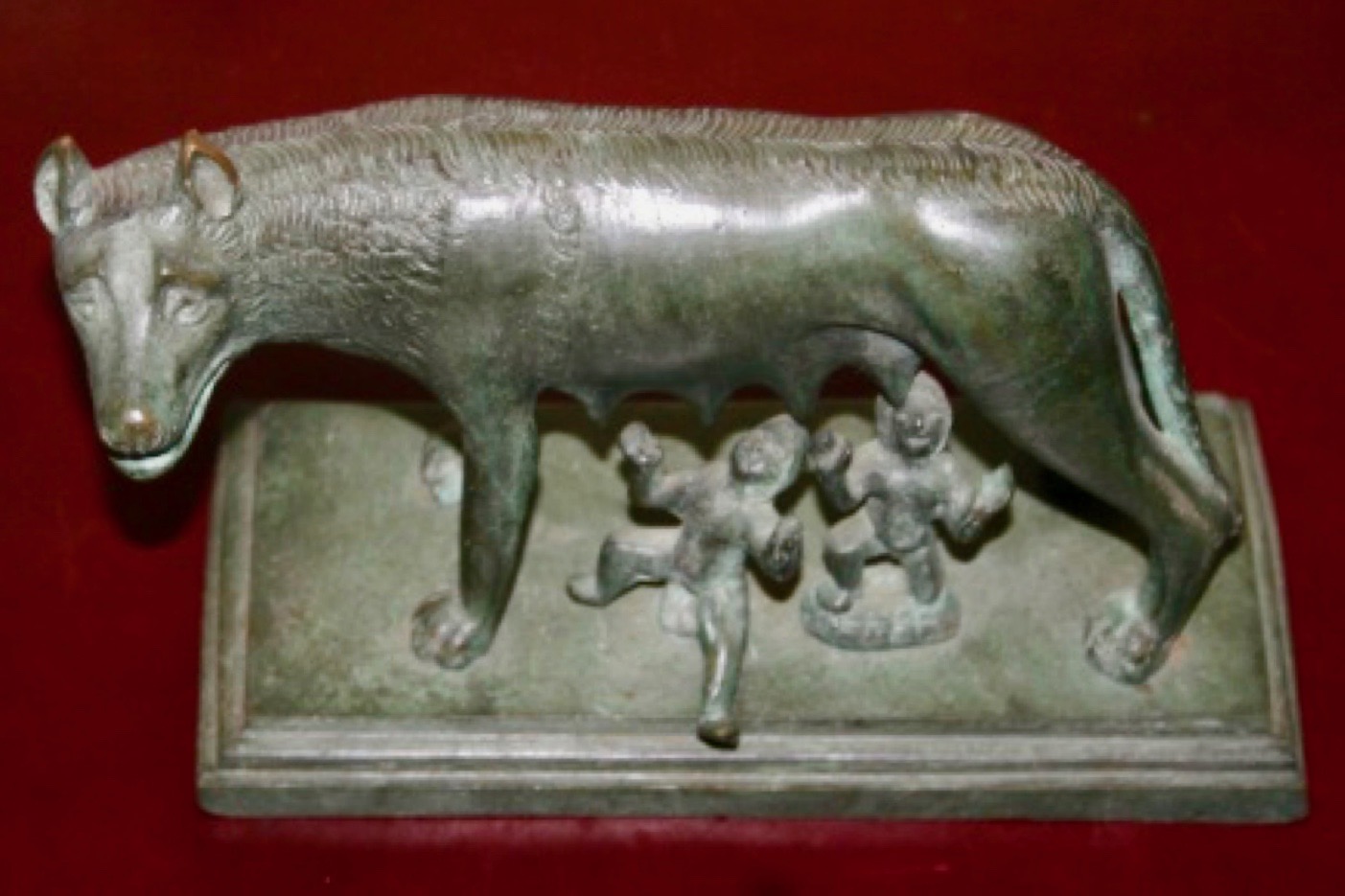 [1] This Catalogue was presented to Mama C. Tamanda Kadzamira on Founder's Day, which she attended as Guest of Honour, in the year which marks the thirtieth anniversary of Kamuzu Academy, 19th November, 2011.
[2] Thanks are due also to Mr. Minala, the Supervisor, who extended every courtesy during our visits.
[3] 'It was from this lady that Gogo Chayamba took fertility herbs so that his daughter should have a child. Fortunately, the herbs worked and Kupingani bore her first child who was named Kamsitsi (Kamuzu). This was the origin of the name Kamuzu', Tracing the Footsteps of Dr. Hastings Kamuzu Banda, K. J. MGAWI (Blantyre: Dzuka Publishing Company, 2005), p. 9.
[4] Pace Brody: see below. Some of the books, however, would appear to have been well-thumbed by Kamuzu Banda.
[5] It is tempting to suppose that Lt. Gen. Iliu Ceauşescu's From the Dacian State to Socialist Romania (no. 26) was also a diplomatic gift. But it is difficult to imagine the circumstances under which Romanian and Malawian diplomacy might meet.
[6] The telephone number of the Kamuzu Academy is +265(0)1253488. The Academy, which was founded by Kamuzu Banda in 1981 to offer a Classical education to Malawians at the site of the tree under which he learned his first letters from Scottish missionaries, is located in Mtunthama village, some 20 km. east of Kasungu boma off the Nkhotakota road. Mr. Dowell Nyondo, Assistant Librarian, will extend every courtesy to any visitor who is interested.
[7] Brody enjoyed personal acquaintance with Kamuzu Banda and was appointed his official biographer (although, to date, no biography has appeared). He was also, inter alia, Honorary Consul General of the United States to Malawi and a Governor of Kamuzu Academy. Perhaps his greatest service to Malawiana is the gift to Indiana University of the materials which constitute the H. K. Banda Archive.
[8] Principal among these are: 'church tracts printed in the late 1800's, given to him by early missionary teachers and bearing all the marks of meticulous childhood study'; 'the 1912 founding statements of Adward [sic] Boat Manda and Levi Ziliro Mumba who were attempting to organize the Livingstonia 'Consciousness' movement', 'Montesquieu's 2 volume THE SPIRIT OF LAWS, London, 1750', 'a lovely copy of Aristotle's PARVA NATURALIA (Venetus [sic], 1511)', 'Hutter's HEBREW BIBLE (Hamburg, 1857), 'a well thumbed 12 volume set of Grote's HISTORY OF GREECE (London 1849 – 57)… close to Dr. Banda's desk as he found it a very useful reference', 'Burton's ANATOMY OF MELANCHOLY (Oxford, 1621), 'a pristine copy of a 1938 brochure announcing the discovery of… Penicillin, with an attached note from Alexander Fleming' and 'A CHRISTMAS CAROL (London, 1843)'. It is possible that they were moved to the main palace or to other collections in Malawi. For the most part, the authors saw no evidence that Kamuzu Banda annotated his books, as Brody asserts when he praises '[his] neat pencil marginal notes, always correcting, challenging or indicating agreement'; and, although there are indeed books in a number of languages, mere possession does not demonstrate ability to read 'in English, German, Latin, Greek or Hebrew'. The exceptions are two medical text-books, which Alexander Suebsaeng examined on a subsequent visit and believes to contain Kamuzu Banda's student notes: HALE-WHITE, W.: Materia Medica: Pharmacy, Pharmacology and Therapeutics, 23rd ed. rev. A. H. DOUTHWAITE (London: J. and A. Churchill, 1937) and MACKIE, T. J. and J. E. McCARTNEY: An Introduction to Practical Bacteriology: A Guide to Bacteriological Laboratory Work, 4th ed. (Edinburgh: E. and S. Livingstone, 1934). It is curious to note that Brody does not mention the principal treasure in the library as the authors found it: no. 65.
[9] Indulgence is asked for any error or oversight in this Catalogue. On all three occasions on which the authors visited the pavilion there was no electric light, which necessitated the use of flashlights to examine the library; and on two the library was the home of swarms of wild bees. These circumstances made for memorable research but difficult reading.
[10] There is a separate paper which attempts a thorough examination of this matter by R. L. Hewitt: Prancing and Pranking and Proclaiming Caesar: Dr. H. Kamuzu Banda and the Classical Tradition in Malawi, which was read at the Conference of the Classical Association of South Africa at Rhodes University, Grahamstown, 28th – 30th June, 2011. It offers also an outline of the history of the Classics Departments of the University of Malawi and Kamuzu Academy together with full bibliography.
[11] LAMBERT, M.: The Classics and South African Identities (London: Duckworth Publishers, 2011) contains an important study of the place of the Classics in black intellectual culture of the South Africa of Kamuzu Banda's youth.
[12] 'To me, to call a man B.A., M.A., when he does not know a single word of Latin, is deceiving people… Latin is not being taught anywhere in the country, in secondary schools or at the University… But to me, education based on no Latin at all at any stage is a house built on stilts, not on solid foundation.' p. 14.
[13] Kamuzu Banda concluded the speech with which he opened Kamuzu Academy on 21st November, 1981 with the exhortation: 'A boy or girl leaving the Academy must be able to prance and prank and say: 'Gallia est omnes [sic] divisa in partes tres… [sixteen typed lines of Caesar]'. Alas, the textual 'variant' is not derived from the Nguru-ya-Nawambe Caesar.
[14] OGILVIE, R. M.: Classical Studies in Malawi: A Report made during a visit, June to July, 1979. There is an engaging account of the introduction of Latin to the University of Malawi by C. ALEXANDER: 'An Ideal State', New Yorker, vol. 67 / 43 (Dec. 16, 1991), pp. 53 – 88. For the development of the Classics Department, see JENNER. E.: 'A Short History of the Department of Classics, Chancellor College, University of Malawi', Scholia: Studies in Classical Antiquity, vol. 10 (2001), pp. 161 – 169. The last word is by USHER, M.: 'A Piggyback and Personal Account of Classics in Malawi', <http://www.chs-fellows.org/blog/languagesandliterature/a-piggyback-and-personal-account-of-classics-in-malawi-2/>, posted 4th February, 2011 (accessed May, 2011).
[15] It is gratifying that piety towards the Classics would appear to run in the Kadzamira family: at least two Kadzamira's – Joana and Olivia, pupils at the Academy – have chosen to pursue Latin as an elective to AS / A2 level in the past few years. Adam Stevenson, Kamuzu Academy Classics Department 2004 – 2007, was inspired to compose Latin elegiacs in the manner of the Double Heroides, in which Kamuzu Banda somewhat anachronistically addresses Mama C. Tamanda Kadzamira from Gwelo Prison.
[16] It is interesting that a copy of A. J. CRONIN's novel The Citadel (London: Victor Gollancz Ltd, 1937) is to be found in the library. The hero of the story, a medical doctor of obscure origin like Kamuzu Banda, owes his success in the medical examination which will make his career to a fortuitous remembrance of having encountered the word 'aneurismus' in Celsus, whom he has read in the original Latin, having learned the language, by no means in his first youth, for the examination. Aesop and Tacitus are also mentioned in the novel.
[17] The absence of dictionaries and serious grammars is remarkable; and the selection of texts is uneven. It is unfortunate, in the light of Alexander's analysis of Kamuzu Banda's Malawi as the 'Ideal State', that the library does not contain anything to suggest an interest in Plato. On Kamuzu Banda's ability to read Latin, at least, see the CASA paper.
[18] Among many examples, the adaptation of The Frogs by Nanzikambe Arts in 2009 must suffice
[19] The Catalogue is divided into four sections, A – D. In the case of all books, details of the exact edition and revision are provided. Ownership marks and dedications are detailed after each item, where they exist, and are underlined. Illustrations of select items are appended.
R. L. Hewitt and A. C. SuebsaengKamuzu Academy, Malawi19th November 2011
classics.fritillary.org08/20