Teaching Athens to Africa
The withdrawal of OCR's syllabus from international examination centres has left schools such as Kamuzu Academy without a public examination in Classical Greek.
Accordingly, after many years of preparing pupils for examination at (I)GCSE and beyond in Greek and / or Latin, the decision was made to retain the teaching of Greek in the Lower School but to offer only Latin in the Middle and Upper Schools. This allows all pupils at Kamuzu Academy two years of Greek, in the Second and Third Forms: this is currently scheduled at c. one hour per week.
We designed the Kamuzu Academy Lower School Certificate in Greek (KALSCG) to give structure to this course. In the first year pupils learn the alphabet and the rudiments of the language. In the second year the emphasis is on reading texts in the original Greek: to begin with, the New Testament, but then the Classical authors, especially those with whom there is some connection to Africa (Herodotus, for example). Coursework (inviting pupils' imaginative response to texts) and participation in other Classical activities (such as Greek plays) are encouraged and are part of the assessment. The certificate, which is internally awarded but externally moderated, is classified at Distinction, Merit and Pass.
Over the past two years KALSCG has proved successful. Current ambitions are to invite other schools (in Malawi and beyond) to participate and to extend the certificate to embrace both Latin and the Middle School.
Please find here names of those awarded the certificate at Distinction, together with an album of coursework and a sample 'final' paper. Details of our programme are also available.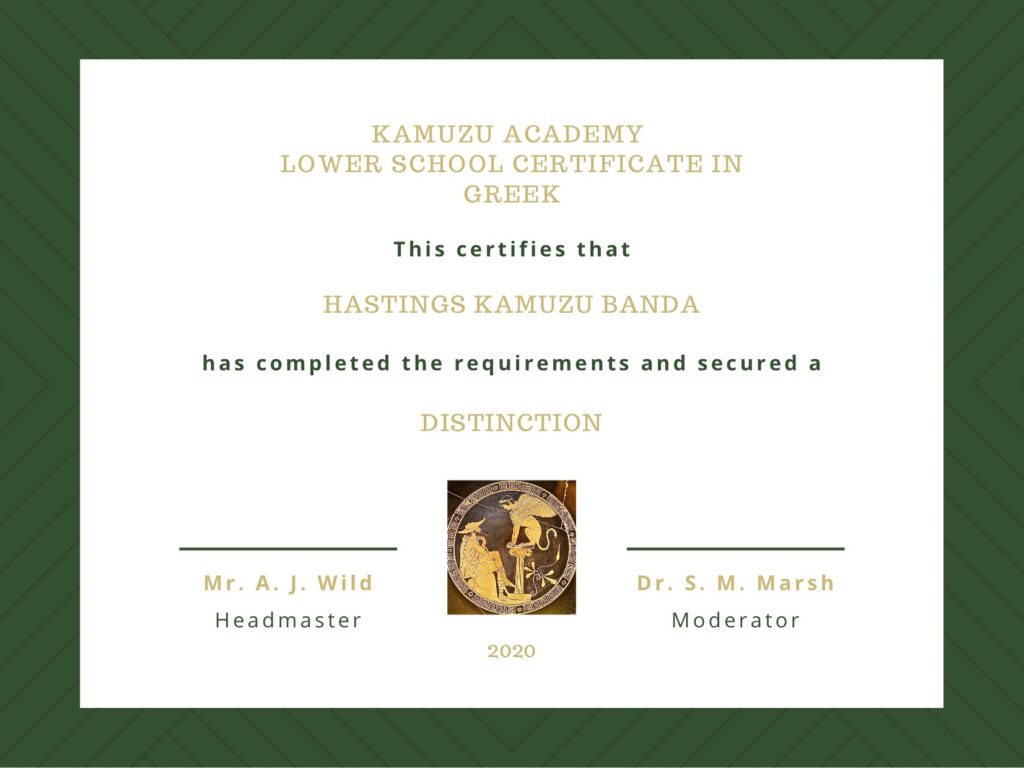 2021 16/102 16 p.c.
2020 14/109 13 p.c.
As for Pass. In addition, the holder has displayed outstanding ability and commitment.
Work is consistently at A standard or above.
2021 16/102 16 p.c.
2020 19/109 17 p.c.
As for Pass. In addition, the holder has displayed more than average ability and commitment.
Work is consistently at B standard.
2021 35/102 34 p.c.
2020 53/109 49 p.c. (*)
(*) School closure prioritised coursework in this year.
The holder has pursued a course of studies in Classical Greek, appropriate to the Lower School, over two years. He / She has learned the alphabet and rudiments of the language and has read texts which include passages from the New Testament and a Classical author. He / She has also displayed cocurricular interest in the discipline.
Work is approximately at C standard.
This work was produced by pupils in the Third Form between 2019 and 2021. It reflects engagement with the Gospel of St. Mark, Herodotus' Histories, the Lord's Prayer, the Greek alphabet, elementary Greek grammar and the Gospel of St. Matthew.
This paper (.pdf) was composed to examine the Third Form at the end of Independence Term 2021. Pupils had read most recently Herodotus' account of the Embassy of Cambyses to the King of the long-lived Ethiopians.
The following reflects the agreement of 18th September 2019 between the Head of Department (Classics) and the Headmaster of Kamuzu Academy (on behalf of the Board of Governors).
It was last revised on 31st August 2021.
The Kamuzu Academy Lower School Certificate in Greek (KALSCG) will serve:
a) to provide focus to the study of Greek in Forms 2 and 3, and
b) to reward pupils who demonstrate ability and / or commitment in Greek.
It will be awarded at the end of Form 3 to pupils who have secured at least an average of C grade over the previous two years (with discretion in the case of other pupils who have impressed their teachers favourably).
KALSCG is not intended to impose any constraint on colleagues. Rather, it may be expected to develop as different interests and approaches emerge in the Classics Department.
The current proposal for the syllabus is as follows:
PART I
Elementary Grammar and Vocabulary
Form 2
The Greek Alphabet
The Definite Article
Simple Nouns of Groups 1, 2 and 3
An Introduction to Concord
The Present, Future, Imperfect and Aorist of luo: in the Indicative Active
The Present Active Imperatives and Infinitive of luo:.
Form 3
Comparative and Superlative Adjectives and Adverbs
An Introduction to the Middle and the Passive
Common Strong Aorists
An Introduction to Participles
Other Grammar that is required to read the Prescribed Texts will be explained in passing.
Please Note
The existing Vocabulary List will serve for Form 2. Vocabulary for Form 3 will be determined by the choice of Prescribed Texts. Knowledge of simple etymology of English words with Greek derivations will be rewarded.
PART II
Prescribed Texts
At least two New Testament passages and two passages from a Classical author (of appropriate, i.e. short length) will be read.
It is expected that this will ordinarily be done toward the end of the Second Form and over the course of the Third Form.
New Testament
Passages drawn from the GCSE RS syllabus (AQA)
Classical Authors
- A simplified story from Herodotus (with African interest);
- A selection of v. short passages of Homer and / or other poets;
- Other texts that may support the reading of Latin authors at IGCSE (CIE).
It will be helpful if over time colleagues were to contribute marked up texts to a common library.
PART III
Class. Civ. and / or Practical Element
This is at colleagues' discretion. It is desirable in itself and may serve also to reward the less linguistically inclined.
Examples of appropriate work would be: participation in Classical plays and declamation contests, the design of posters, and written work in English on Classical themes.
In order to receive KALSCG a pupil must meet a minimum standard in all three parts, although strength in one part may compensate for weakness in another, and the guiding principle will be to reward honest effort wherever possible.
Parts I and II will be examined in the usual way. The contents of the papers will be agreed in accordance with this syllabus and by all colleagues concerned.
Questions on Prescribed Texts will include translation but may also extend to those that reward knowledge of context and invite a measure of personal response. Examination will be divided between the Mid-Year and Final Examinations in the Third Year.
Part III will be examined continuously.
KALSCG will not have the status of a public examination. However, it is reasonable to expect that it will exert some influence, at least in Malawi and in Southern Africa. This will be reinforced by a measure of (at least perceived) external validation from (a) former colleague(s) in the UK and / or Malawi. In addition, or in any case, KALSCG will carry the authority of Kamuzu Academy and the Classics Department (acting by consensus).
The certificate will be designed to a high standard and presented at a suitably formal occasion. Its purpose and what is required to obtain it will be explained to pupils very clearly.
The certificate will bear a class (Distinction, Merit and Pass). The best performance(s) may also be rewarded in an additional way.
There is the possibility of endorsing the certificate to indicate the work that an individual pupil has completed to achieve it (e.g. texts studied).
The original proposal referred to a Lower School Certificate in Classics (to reward both Greek and Latin). The Greek certificate may act as a 'pilot' for the more ambitious project.
KALSCG is now 'launched' for first award in June 2020. It will be advertised to pupils in an appropriate way by their teachers.
Dr. Stephen Marsh B.Phil., M.A., D.Phil. (Oxon.) has agreed to validate KALSCG for the years 2020 to 2022.
He taught at Kamuzu Academy from 1999 to 2012 and was Head of Department (Classics) from 2003 to 2012.
classics.fritillary.org04/20