Miss Alisoun Probert writes (2010)...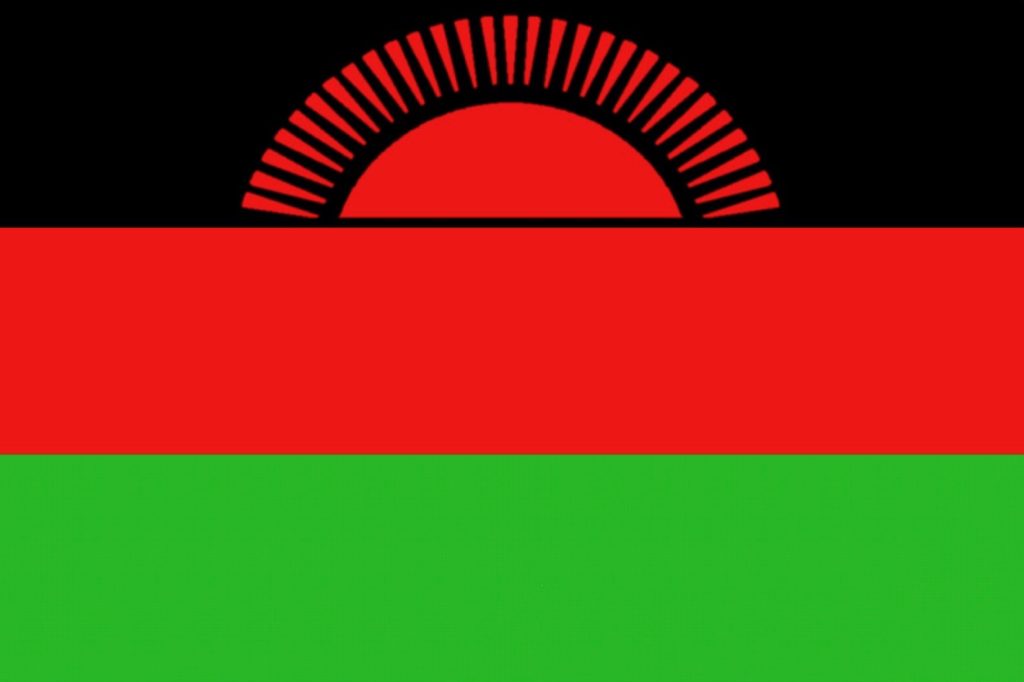 In July 2008 I found myself stranded for a couple of days outside Embangweni Hospital in the Northern Region of Malawi whilst a mechanic tended to our vehicle. The obvious thing to do with this unexpected time was to descend upon the female ward of the hospital with a pack of Muji paper. Towards the end of the first day of folding maluwa ('flowers') for the patients, I was suddenly beckoned over to Memory's bed. Memory was an agogo ('grandmother') who had been invaluable that day in interpreting between Chichewa and English. She wished to know if I was able to fold a tambala ('cockerel'). I replied that I did not know how to make a tambala. Memory expressed disappointment, explaining that the tambala was a much esteemed animal in Malawi, upon which she burst into the following song:
Tambala walira kokoliliko
dzukani thamagirani ku ntchito zanu.
('The cockerel has crowed kokoliliko
Wake up, hurry to your work.')
Ulesi ndi mdani wa dziko lino
khama la chiswe nalo titsatire.
('Laziness is the enemy of this country
Let us follow also the example of the hard work of the termites.')
Aaaa! nong'o nong'o!
Eeee! wefu wefu!
Thukuta lanu tigula ufulu.
('Your sweat will purchase freedom.')
There followed a lesson in which I was taught this song, after which I offered, naturally, that I would 'have a think' about how to make a tambala. It was now dusk. I left the ward, turned into the local rest house, ate some nsima, and swiftly climbed under the bed covers and shivered away the hours of what must have been the coldest night that I had ever experienced.
***
After dawn I returned to the ward. Memory beckoned me over to her bed again, wanting to know whether I had yet managed to make a tambala. My heart sank, and with regret I explained that I had not yet managed.
***
That evening, after another meal of the staple nsima, I stayed up. With fingers white from the cold I went through a pack of Muji paper, determined to meet the demand of this insistent and charming agogo.
And so it was that on that night, Kwacha was created: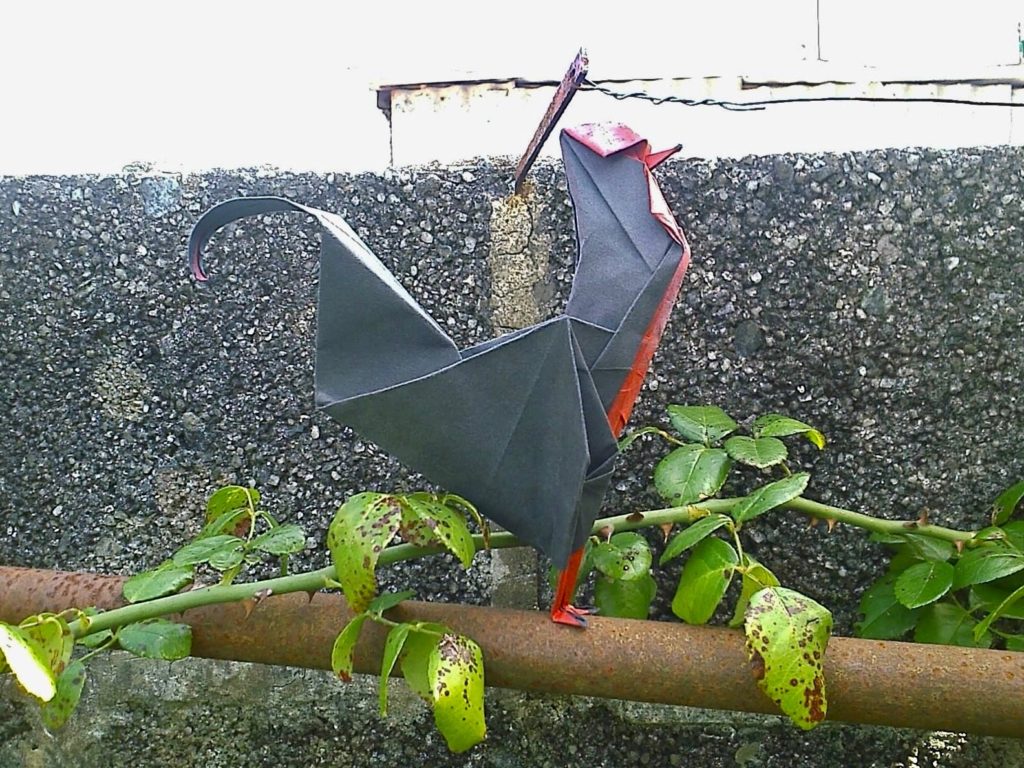 Shortly after dawn I returned to the ward, where I found Memory awake, faithful to the message of the song that she had taught to me. Her eyes opened wide when she saw me, and she again beckoned me over to her bed. 'Did you manage it?', she anxiously asked. I smiled and handed Kwacha to her. Memory beamed with joy, and told me that she would treasure this tambala as a memory of the special time that we had spent together.
The vehicle now working again, I bid Memory and the other patients goodbye, and continued on my journey.
Embangweni School for Deaf ChildrenAugust 2008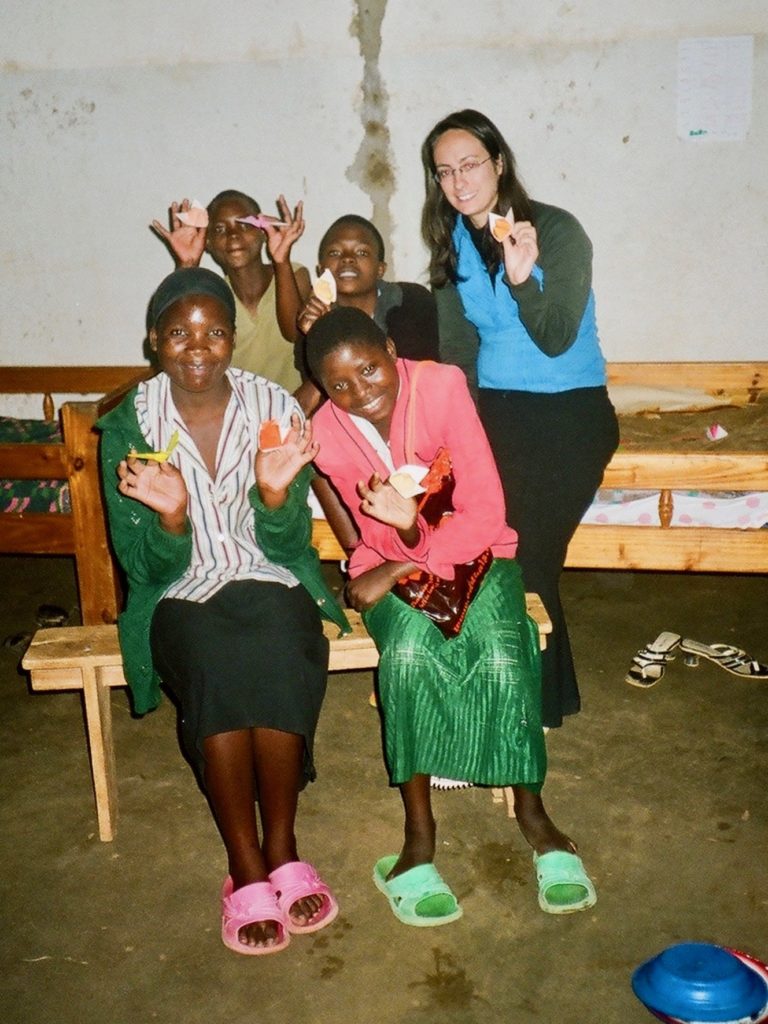 Folding into the night: standard 8 girls (and the author!) display their completed 'House-Hat-Fox' puppets (traditional)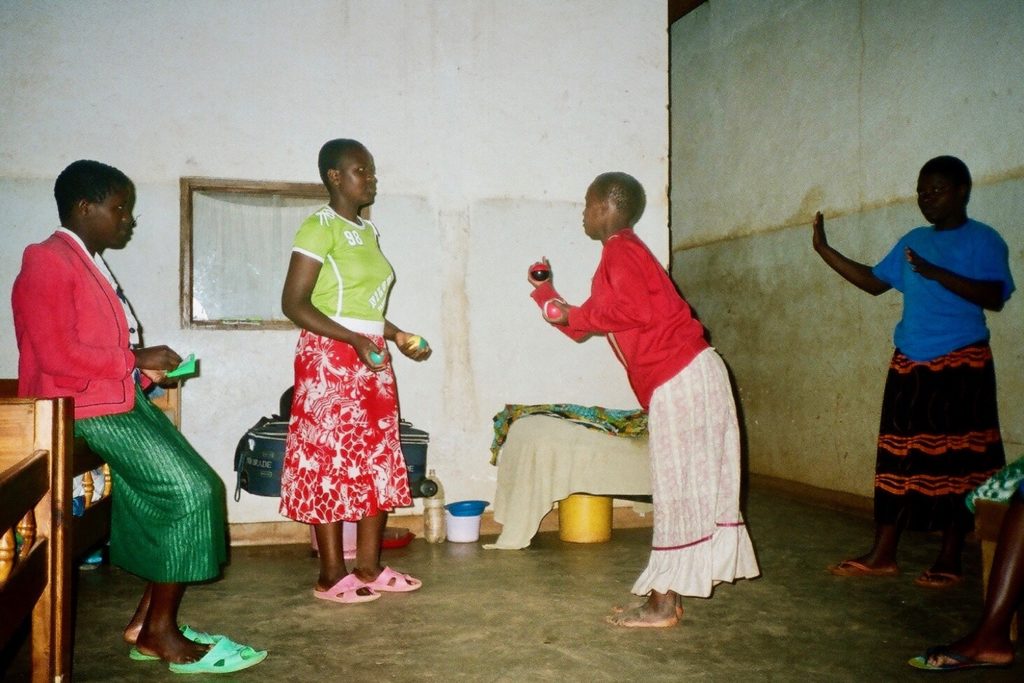 Cynthia teaches Emma to juggle the 2-ball exchange - after which she successfully taught Emma the 3-ball exchange!
Amayi ('Mother')
In March 2010 I and a friend embarked upon a journey to travel to Malawi from Cape Town, overland, clockwise via Namibia and Zambia.
***
Travelling day after day through the vast barren wastes of the Namib Desert, with little, save the occasional few ostriches and the odd reptile, to interrupt the gaze from the relentless monotony of sand and mirages, the habitual play of thoughts in my mind became stiller and stiller, until my mind felt quite as dry as the desert itself. I yearned to see people and animals again.
***
Out of the desert at last, and travelling by coach through the Caprivi Strip in the north of Namibia, my eyes took in brightly coloured chameleons, praying mantids, huge millipedes, even an elephant. My mind, so thirsty, lapped up these wondrous images of life.
***
We crossed into Zambia, villages became more frequent, and I became conscious of a sight so familiar to me from Malawi, indeed the very same sight which had made its most lasting impression on me when first I visited Malawi in 2005: the sight of amayi ('mothers'), of such elegance, in form, dress, and posture, carrying their babies on their backs.
***
The next morning was Easter Sunday, on which day I awoke in Livingstone, Zambia. That morning I looked upon the extraordinary sight of Victoria Falls, described by Dr. David Livingstone thus:
'No one can imagine the beauty of the view from any thing witnessed in England. It had never been seen before by European eyes; but scenes so lovely must have been gazed upon by angels in their flight.'
My mind, having tasted such fruits, was now adance. And that very afternoon, it came to me that the very thing to create from paper must be an amayi with a baby on her back.
And so, on the afternoon of Easter Sunday, Amayi came to be: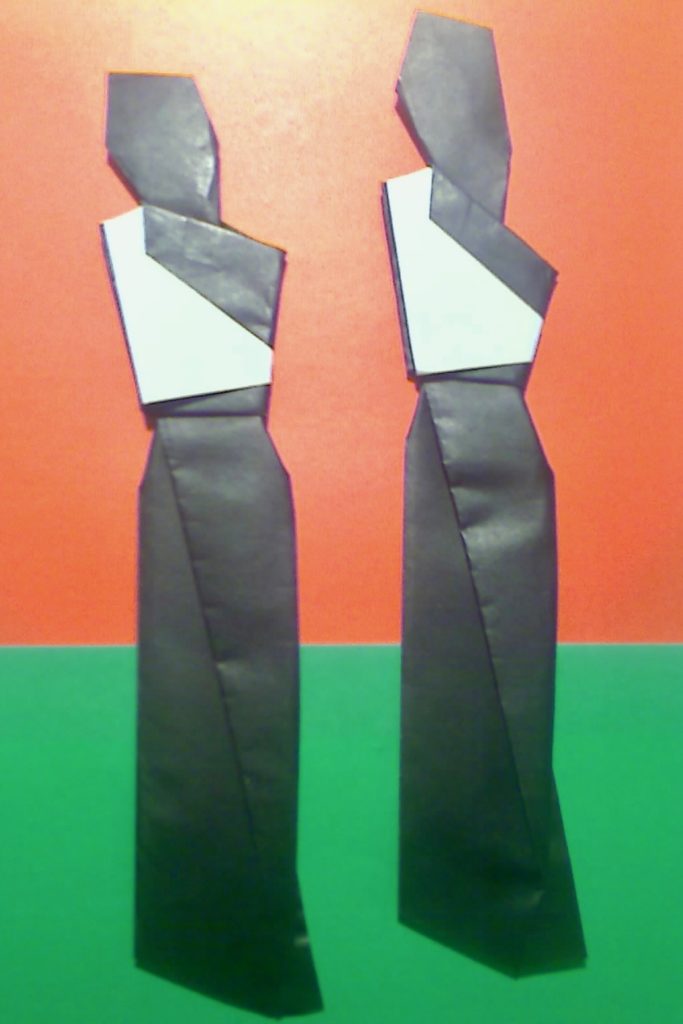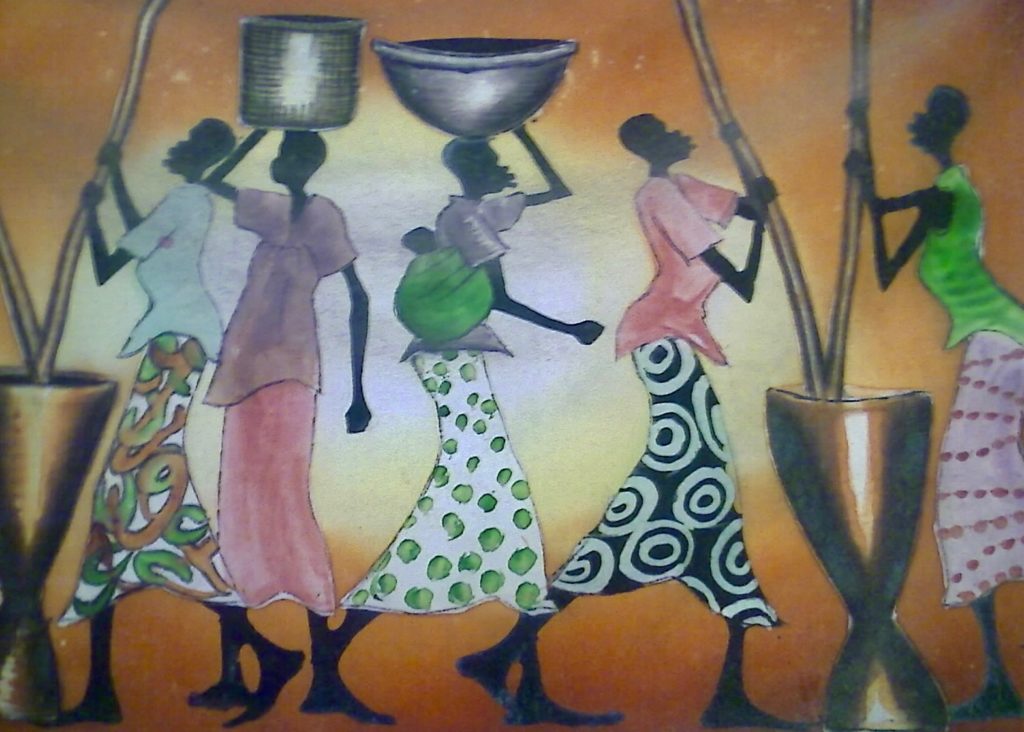 You might agree that the above 2-dimensional origami picture is similar in style to an authentic style of painting found in Malawi; a - somewhat faded - example is shown here.
Mua School for Deaf ChildrenApril 2010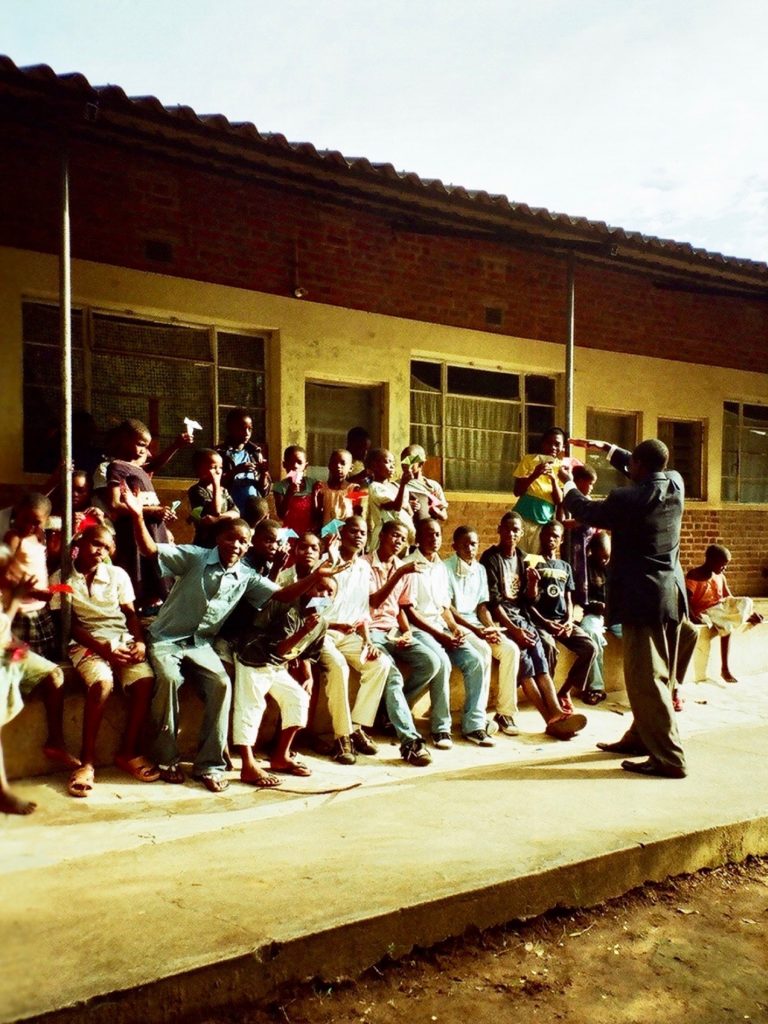 Collins, a former student at the school, demonstrates to the deaf pupils, during the teaching of Yamaguchi's 'Cawing Crow', how two of the edges should be parallel.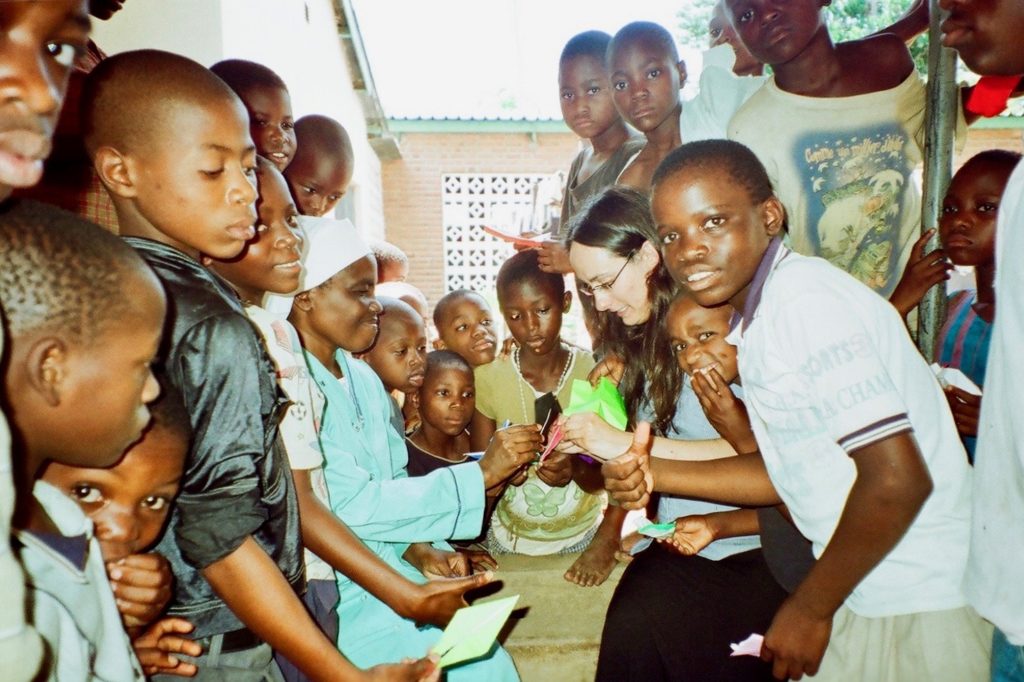 Sister Rita also wanted to be taught the flapping bird!
Anyone interested in donating origami books or paper (or anything else!) to deaf children in Malawi may contact the author here.
From British Origami (2010)
"Cockerels, Women & Sign Language: Paper folding and Juggling in Malawi"
games.fritillary.org03/06