Welcome to the Shakespeare Schools Festival - Malawi, which is now in its fifth year!
Kamuzu Academy is pleased to be able to contribute to an international movement that encourages young people to gain first-hand experience of the performance of Shakespeare on stage.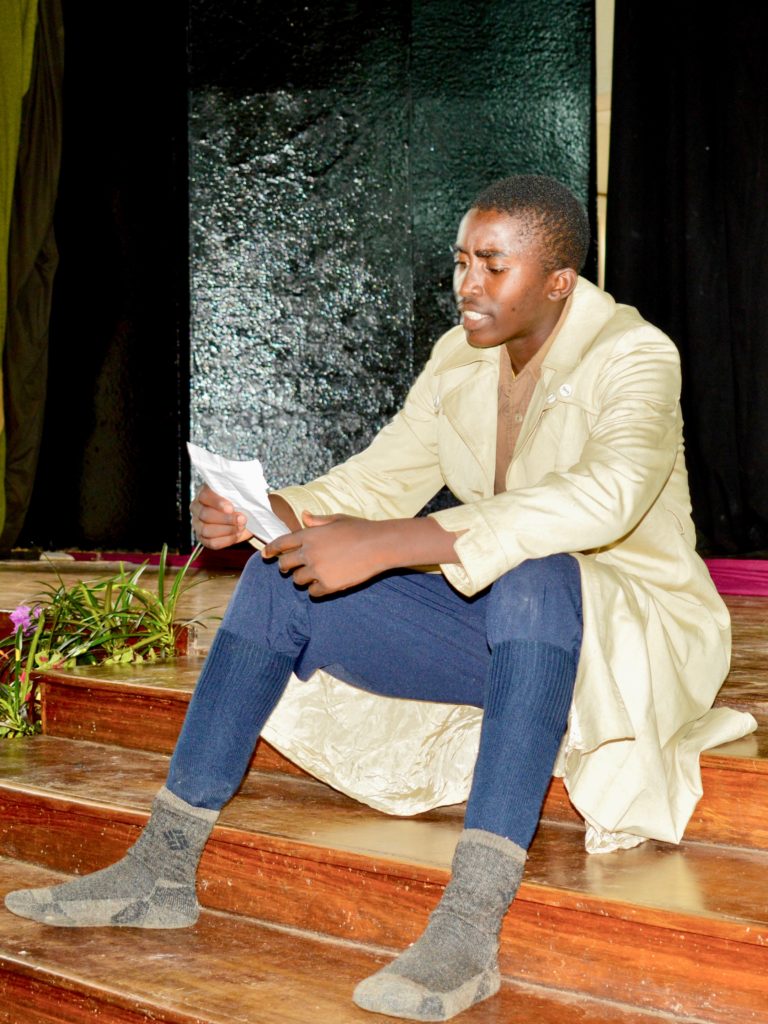 Alexander said of what he had gained from participating in the second Shakespeare Schools Festival - Malawi:
'[The Festival] has helped me to gain confidence to speak to people. It has also helped me to make friends from different schools.'
Click here to read further comments from Mr. Michael Masudi, headteacher of All Saints' Mtunthama CDSS, and other members of the Drama Club.
Alexander has now completed Form Four.
He has continued his interest in drama beyond school by helping to found the Destiny Drama Club (Mtunthama), which performed for the first time at the 2019 Festival.
He acted as the Duke of Venice and Lorenzo in The Merchant of Venice.
In 2008 Mr. David Owen (KA 2007 - 2008) arranged for Kamuzu Academy to be the only school on the continent of Africa to participate in Shakespeare 24. Sixty-five schools over twenty-one different time zones celebrated Shakespeare's birthday by performing plays at exactly 7 p.m. on 23rd April so that his plays circled the globe over a 24 hour period!
Kamuzu Academy contributed shortened versions of A Midsummer Night's Dream and Romeo & Juliet, and Domasi Mission Secondary School, who were our guests, Macbeth. Mr. Christopher Grace, director of Shakespeare 24, travelled to Malawi to be part of a memorable evening. The achievement of the thirty-five pupils of Kamuzu Academy who participated was recognised with the Diana Award.
Subsequently Mr. Alexander Suebsaeng (KA 2009 - 2011) and Mlles. Daisy Belfield and Alice Ludlow (KA 2012 - 2014 and 2017) directed plays that were enjoyed within the school.
However, in 2017 circumstance changed with the arrival of Mr. Lloyd William Parker. He re-established the Drama Club and made it possible to consider the renewal of a tradition of Shakespearean drama at Kamuzu Academy - this time once again in conjunction with other schools in Malawi and as part of an international festival.
Mr. Richard L. Hewitt met Ms. Kseniya Filinova-Bruton, founder and director of the Shakespeare Schools Festival - South Africa, in Cape Town (2014). She has extended every encouragement and support. Although the Malawi Festival is independent, we are delighted to consider ourselves part of a larger 'Southern African' Festival.
It is a great pleasure to report that in March 2020 Kamuzu Academy was able (for the first time) to represent the fourth Malawi Festival at the tenth South African Festival in Cape Town. Click here to read more!
Festival Days are busy! Participants gather at Kamuzu Academy not only to perform their own plays but also to watch the contributions of other schools. (In 2020 - exceptionally - our Festival was virtual.)
Please enjoy the separate accounts of our Festivals in 2017, 2018, 2019 and 2020, which together have involved some one thousand pupils and teachers from some fourteen schools and two youth groups. They include primary and secondary, girls' and boys', private and Government sponsored, (relatively) wealthy and (the poorest of the) poor. In 2019 and 2020 we welcomed special needs pupils from two deaf schools.
The Festival is not competitive. However, all participants receive a certificate to commemorate the part they have played in allowing the Festival to happen. It is a most attractive aspect of the ethos of the Festival that schools are so willing to help each other.
Click here to watch a short Introduction & Welcome to the 2018 Festival. A Florilegium of the 2020 Festival is available here.
Click here to see plans for our Fifth Festival.
Part I is scheduled for Saturday, 4th December, 2021.
'[The Festival] aims at improving language and social skills through the performing arts as an additional education programme. The project encourages youth development, job creation, social cohesion, as well as inclusion of children with different-abilities, ensuring they emerge triumphant as equal to one's peers, regardless of "physical or material" limitations.' Shakespeare Schools Festival - South Africa
Although there is obvious academic benefit for those studying Shakespeare in staging a play (Shakespeare is examined in the Malawi School Certificate of Education), the real worth of the Festival is expressed eloquently in the words above. Just about all headteachers have remarked that participants have become 'a school within the school' - characterised by their maturity, power of self-determination and sense of common purpose. Malawi is a country with limited opportunities: it is excellent that the Festival should allow the discovery of these qualities. Testimonials from recent participants in the Malawi Festival are available here.
Before the Festival Day
We establish contact with interested schools, offer advice and make available texts. Communication is ongoing throughout the process of rehearsal. One week before the Festival Day we bring all local participants to Kamuzu Academy for a dress rehearsal and travel to watch the plays of schools that are further away. We also advertise the Festival in ways that seem appropriate and are of benefit to participating schools.
We encourage schools to bring their most personal response to the staging of Shakespeare. Elizabethan English and the Chichewa / Chitumbuka vernacular, traditional dress (Malawi and English) and modern, the discovery of Malawi analogues for English cultural norms - they are all most welcome!
After the Festival Day
We invite suggestions as to how proceedings might be improved for the next Festival. For the 2018 Festival we produced a DVD for each participant, containing an Introduction & Welcome to the Festival and a lightly edited recording of the play s/he had performed.
Kamuzu Academy kindly makes its facilities available to the Festival without charge. However, for the rest the Festival is dependent on self-sponsorship and private donation.
The cost works out as c. MWK 7500, ZAR 150, GBP 7.50 per pupil, so expenditure for the 2018 Festival was c. GBP 1500 and our budget for the 2019 Festival was c. GBP 3000.
Any offer of support (financial and otherwise) would be very welcome. Our principal expense is transport to allow participants to travel to Kamuzu Academy.
Zikomo kwambili to kind friends in South Africa and the United Kingdom for their existing support!
Click here (JustGiving) if you too would like to be part of our work! Funds raised will support the Festival.
The director (who serves on a voluntary basis) is Mr. Richard L. Hewitt.
He would welcome contact from others who would like to participate in arranging the Festival.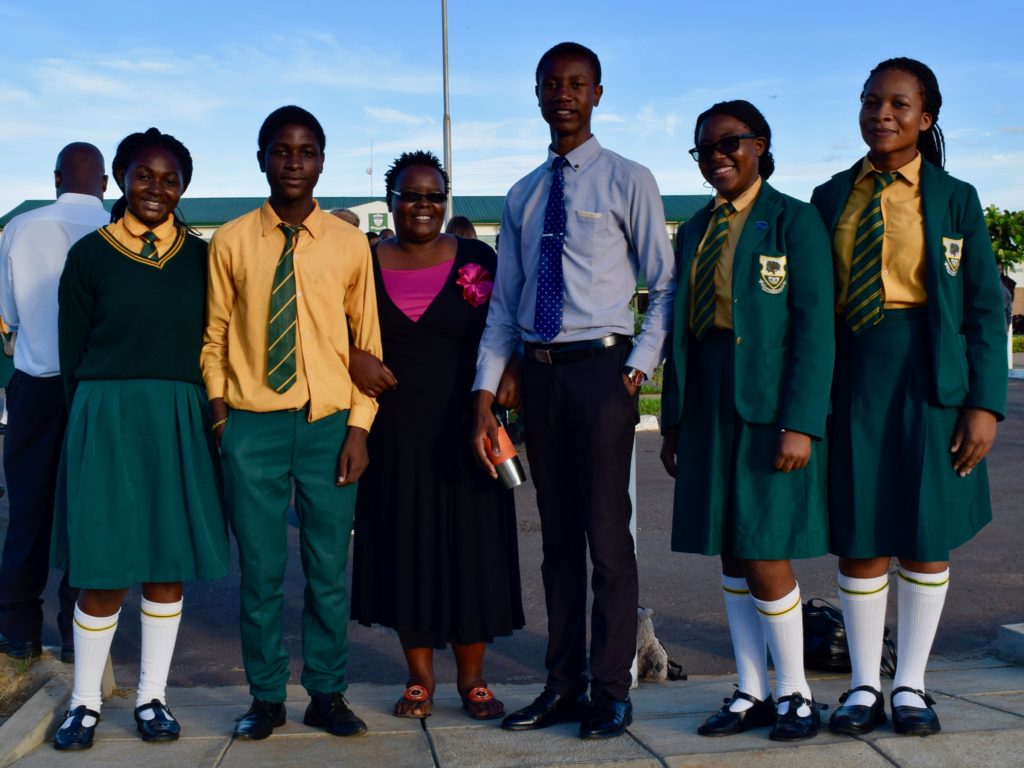 Mrs. Marion Phiri (Matron and Head of Drama at Loyola Jesuit Secondary School) with Jacob Ndalema (Chairman of the Drama Club and 'Romeo') and visiting pupils from Kamuzu Academy at the Loyola Drama Day on 10th March, 2019.
Loyola Jesuit Secondary School has participated in both Festivals. The Loyola Drama Day is Mrs. Phiri's initiative to strengthen the relationship that has arisen between the two schools through Shakespeare.
shakespeare.fritillary.org01/11